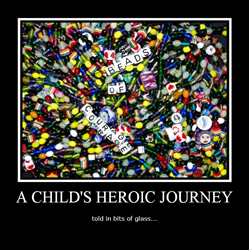 A child's bead collection over time provides a powerfully tangible, visible symbol of their courageous journey
Knoxville, Tennessee (PRWEB) September 08, 2014
Jewelry Television (JTV) and Beads of Courage, a non-profit organization dedicated to encouraging seriously ill children, are partnering to present National Bead Challenge Day on Saturday, September 20 from 10 a.m. to 4 p.m. Fourteen "Bead Challenge" sites across the nation are in competition with each other to raise money and collect beads.
Since 2005 the Beads of Courage Program has supplied handmade beads that are crafted and presented to children coping with serious, often life threatening illnesses. Each bead commemorates a milestone in a child's treatment journey, based on the Program bead guide. The beads have grown in popularity, as young patients enjoy collecting them and draw encouragement from the hope that each unique bead represents.
Beads of Courage families and caregivers will attend the events, which are open to the public and members of the media for participation. Hundreds of lampwork bead artists will fire up their torches for six consecutive hours, creating one-of-a-kind glass beads. Activities include bead-making demonstrations, glass bead and jewelry shopping, and giveaways of Courage Clips and door prizes.
"The Beads of Courage Program allows us to give hope and honor the courage of children and families coping with cancer or other serious illnesses," said Jean Baruch, RN, executive director at Beads of Courage. "A child's bead collection over time provides a powerfully tangible, visible symbol of their courageous journey."
"We invite everyone who can to support the mission of Beads of Courage by participating in a bead making event near you or going online to donate," said Trisha Condra, vice president of general merchandising of gemstones at JTV. "This is a wonderful opportunity for people to come together and demonstrate our support."
The JTV National Bead Challenge site will be located at 9600 Parkside Drive, Knoxville, TN, 37922. For more information, call 865-692-6000 or visit http://www.beadsofcourage.org to find a Bead Challenge site near you.
About Beads of Courage: The mission of Beads of Courage (BOC) is to provide innovative arts-in-medicine programs for children coping with cancer and other serious illness, their families, and healthcare providers who care for them. BOC programs are evidence-based interventions designed to strengthen resilience, alleviate suffering, and improve the psychosocial adjustment process. Beads of Courage currently serves 260 member hospitals in the United States, Canada, United Kingdom, Japan and New Zealand. BOC is a 501(c)(3) tax-exempt organization. For more information, visit http://www.beadsofcourage.org.
About Jewelry Television®: Jewelry Television® (JTV) is one of the largest multichannel retailers of jewelry and gemstones in the U.S. appealing to fashion-conscious women, jewelry-making enthusiasts and private collectors. The privately-held shopping network broadcasts high definition programming, 24 hours a day, seven days a week, to more than 80 million U.S. households. Committed to consumer education, the network employs numerous Graduate Gemologists and Accredited Jewelry Professionals. JTV.com offers the most comprehensive jewelry and gemstone Learning Library on the Internet, and is the third largest jewelry website according to Internet Retailer's Top 500 Guide for 2012.
# # #