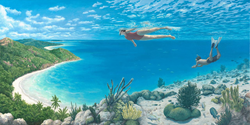 N. Bethesda, MD (PRWEB) September 09, 2014
Washington D.C. Fine Art Gallery, Huckleberry Fine Art Gallery, is pleased to present the art of world-renowned Magical Realist painter Rob Gonsalves. The gallery will host a weekend-long book signing and open house in addition to the "Riesling and Red Velvet Reception." The reception and open house will be free of charge.
Meet world-renowned artist Rob Gonsalves while indulging in art, drinks and eats at the "Riesling & Red Velvet Reception" on September 26 and 27 from 7:00 to 11:00 pm. Huckleberry Fine Art will be serving complimentary wine and food for attendants, RSVP is strongly recommended. The Rob Gonsalves Art Show and book signing will precede the reception on Friday (7:00 – 11:00pm), Saturday (all day/night), and Sunday (11:00 am – 4:30 pm). The Gallery is located on 12051 Nebel Street, Rockville, MD, 20852.
Rob Gonsalves has been routinely recognized as the most famous living surrealist painter in North America. He is currently published by Huckleberry Fine Art Gallery and has worked with the gallery for almost 20 years. Gonsalves' work is loved by many, as 33,000 of his over 70 limited edition prints have been sold to embassies, corporations and a United States Senator.
His latest work, "Beyond the Reef", injects a sense of magic into an otherwise relaxed beach scene. In the painting, Gonsalves combined the feeling of flight with a whimsically designed underwater world. "Beyond the Reef" and other limited edition prints will be available to view and purchase at the art show and "Riesling & Red Velvet Reception" September 26-28. The painting is available on paper, canvas, and sublimated metal in a wide range of sizes and prices.
The event is free and open to the public, but RSVP is recommended. With questions or directions please call at 301-881-5977 or email at info(at) huckleberryfineart(dot)com
About Huckleberry Fine Art
As the premier art gallery in the Washington, D.C., metropolitan area, Huckleberry Fine Art specializes in finding emerging artists locally and internationally. Since its existence, the gallery has been exhibiting a vast collection of vibrant oil and acrylic paintings, limited edition signed and numbered prints, sculpture, photography, art books and custom framing. Huckleberry Fine Art has established a successful publishing division with the introduction of artist Rob Gonsalves' limited edition prints. For more information, visit HuckleberryFineArt.com.