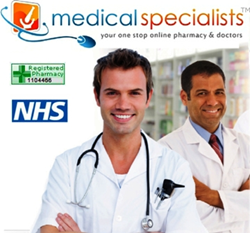 With an estimated one in four women and one in 12 men in the UK affected by migraines on a regular basis, this means around 15% of adults in the UK are suffering...
Bury, Lancashire (PRWEB UK) 5 September 2014
Migraine Awareness Week is set to begin on 7th September and running until the 13th. Therefore, perhaps now is the time to get clued up on an underestimated and serious health condition that often gets confused with a headache, but is actually much worse...migraine.
Whereas the typical headache can usually be cured with food, rest and a couple of painkillers, migraine attacks can last from anywhere between 4 and 72 hours. Those potential three days of pain can be completely debilitating for the sufferer, rendering them unable to carry out their usual day-to-day activities.
However, anyone that regularly suffers with migraine will be delighted to hear that Medical Specialists® Pharmacy have gone to great lengths to make migraine treatment available for the thousands of people that need it after being inundated with requests for help from your fellow sufferers, and this help could enable thousands to get on with their day-to-day activities without the pain and stress associated with the condition.
There are certain symptoms to look out for that distinguish a migraine from a common headache. For instance, anybody feeling nauseous or actually vomiting, or see an aura (i.e. flashes of light, blind spots, or see shapes or bright spots) prior to the pain kicking in, is undoubtedly having a migraine. Another common trait of migraine is a sensitivity to light or sounds.
Keeping migraines at bay can be tough, but managing them and the intense pain whilst at work can prove even more difficult. With an estimated one in four women and one in 12 men in the UK affected by migraines on a regular basis, this means around 15% of adults in the UK are suffering – and a great deal of these will obviously have to battle the condition whilst in their place of work. Although sufferers may feel alone and isolated in their plight, migraine is a health problem even more prevalent than asthma, diabetes and epilepsy combined.
Unfortunately, the sad fact remains that many of us are using 'migraine' as the excuse when pulling a 'sickie' from work, and this is doing no help at all to genuine sufferers. In addition, migraines may be viewed as just a minor condition by people who have never experienced one. Therefore, more communication with fellow co-workers and the employer is advised to make them aware about the condition's seriousness - not just during Migraine Awareness Week, but well beyond.
One of the best ways to tackle migraine, is actually avoid one in the first place! Sufferers are advised to keep a track of their common triggers. Logging the time, place, etc. of headaches can help people deduce the risk of a migraine beginning to limit their frequency or the chance of them striking.
Some people who experience migraines actually start to feel unwell a day before an attack, these strange sensations are called the prodrome. However, prescription medication such as Propranolol (a Beta blocker) can work to prevent migraines.
Painkillers or Anti-inflammatory tablets are commonly used first line treatment for migraine, but should they fail to have any effect, then Triptan medication is usually the next option explored. Triptans work at contracting the blood vessels around the brain. This reverses the dilating blood vessels, believed to be the primary reason for the migraine. Triptan medication is available in various forms and strengths, for example: Sumatriptan, Imigran Nasal Spray, Maxalt Melt tablets, and more.
Other tips for managing migraine at work can include:
. Drinking more water
Migraine is sometimes caused by dehydration, and those who have had vomiting or diarrhoea will especially need to take in more fluids, specifically water. A sports drink would also be acceptable as electrolytes need to be replaced.
. Keep hunger at bay
A common trigger for headaches is hunger. It may be tempting to skip lunch when there is a lot of tasks to complete at work, but this is a huge mistake. Have plenty of healthy snacks to munch during the day (fruit, nuts, protein bars) and limit sugary treats.
. Dim the surroundings
People with migraine should be cautious that the glare of their computer screen, sitting underneath bright lights, or even the smell of a co-worker's aftershave or perfume can all induce a pounding headache. Ask to move to another place in the office that is away from triggers such as bright lighting, noise, or certain smells.
. Learn to control stress
For nearly all migraine sufferers, stress is the most common trigger. Try to find the main stress factors at work, and learn to minimise them. Prioritising tasks at work could help, working through them one at a time, as opposed to struggling to juggle them all at once. Going for a walk outside during the lunch break could even help to reduce stress levels.
. Have downtime
Feeling under stress? Make sure to take mini-breaks or holidays when they're due, even a couple of days off when possible can work wonders. Moreover, those with desk jobs are advised to take all available breaks on offer on a daily basis and do not work through them, regardless of workload.
For anybody still worried about the impact of migraine on their working life or indeed any day-to-day activities, Medical Specialists® offer a fantastic range of migraine prevention and migraine relief treatments which, for UK patients, can be obtained within 24 hours following an online consultation with one of Medical Specialists'® GMC-registered doctors.