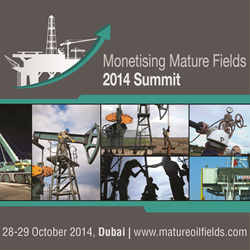 It's an IRN Summit!
London (PRWEB UK) 8 September 2014
The geopolitical situation in Iraq has highlighted the importance of the huge Kirkuk oil field as a major resource for the region. The eighty year old Kirkuk field is Iraq's fourth-biggest oil deposit and should maintain its substantial production figures in the coming years.
In the past, its previous poor reservoir management could have undermined this success, but the Kirkuk field's great potential has been effectively secured through a strong reappraisal and by overcoming the need for fuel oil reinjection, and also increased crude viscosity extraction costs.
There are many oil fields around the world, whose potential is undermined and that could replicate the success story of the Kirkuk field through understanding the details of the strategy behind it, as an example of generating commercial production rates.
On 28th-29th October in Dubai, senior level executives from global operators of mature fields will gather at the Monetising Mature Fields 2014 Summit to assess the Kirkuk field's projected future proven reserves and production figures, and to discuss the key points for the world hydrocarbon's future.
The conference sessions will enable the key players of the oil recovery industry to better understand how to tailor their approach to the unique demands of mature fields through topical presentations, interactive case-studies and panel discussions.
Other topics that the two day agenda include are:

Expanding the economic life-cycle of mature producing fields
Managing an existing mature asset portfolio
Panel debate: to hunt new fields or extend existing plays?
Mature field development methods and latest technologies
Controlling risk in mature asset development
In addition, IRN is proud to announce that the Monetising Mature Fields 2014 Summit is held with the support of the Association for the Study of Peak Oil & Gas (ASPO).
More information on the Summit is available on the website http://www.matureoilfields.com