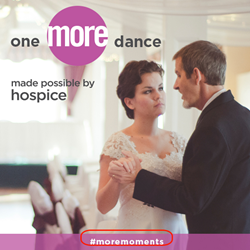 #MoreMoments allows the hospice community to speak in a unified voice.
Alexandra, Virginia (PRWEB) September 05, 2014
The hospice industry is unlike any other in current U.S. healthcare. The National Hospice and Palliative Care Organization (NHPCO) launched the Moments of Life: Made Possible by Hospice awareness campaign last May. The campaign has garnered significant media attention from both traditional news outlets and on social media. The Moments of Life: Made Possible by Hospice campaign utilizes the hashtag, #moremoments in social media messaging.
NHPCO has released an informational page explaining the use of the #moremoments hashtag which helps individuals involved. The #moremoments hashtag is used for capturing positive and significant moments experienced by patients and families who are participating with hospice care. These moments can range from large special events that are specially organized for patients, or simple moments that illustrate the quality of life made possible by hospice care. Some examples of these types of moments that have been capture by the campaign include a special dance between an ailing father and his daughter, the experiences of grieving children at a bereavement camp and even a World War 2 veteran participating in the Honor Flight program just moments before his death.
The #moremoments hashtag is so important to the hospice community because it helps communicate a complex and unique context that is different from existing social media hashtags used by the hospice community. Commonly used hashtags such as, #hospice and #hpm draw attention on social media to posts relating to hospice care. However, these hashtags are more universal and can apply to a myriad of different aspects in the hospice industry including current events, new medical innovations or announcements on regulatory guidelines.
The #moremoments hashtag helps capture the emotional reactions patients and their families experience due to their participation with hospice care. It helps communicate the sentiments felt by all those who experience compassionate hospice care.
NHPCO hopes that the new informational web page featured on the Moments of Life: Made Possible by Hospice will help spread awareness of the #moremoments hashtag and help supporters of hospice communicate on social media in a unified voice.