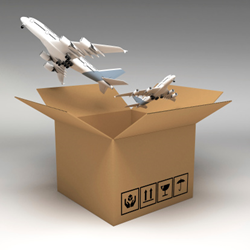 Atlanta, GA (PRWEB) September 08, 2014
AQuickDelivery, a recognized leader for same-day delivery, messenger and transportation services in Georgia, announces same-day pick up from airports. The same-day service is created in efforts to market its line of value-added services, promote service flexibility, and increase sales growth. The Atlanta courier strives to be the best choice in same-day delivery courier solutions throughout the Atlanta and Georgia areas.
The same-day pick up service from airports involves customers requesting a pick up from an airport in the Atlanta area, then delivering the package to their final destination. The courier's same-day airport pick up services are offered from Atlanta and can deliver anywhere in Georgia, even to another state in the US. Whether the customer is an AQuickDelivery account holder or a one-time user, they can still request a same-day pick up from an airport.
When placing the same-day pick up order, the customer must provide the flight terminal location of the package or freight. They also must provide additional flight information, such as the airway bill number, flight number, flight landing time, and freight dimensions. AQuickDelivery schedules the ready time for the same-day airport pick up one hour after the flight landing time, which allows adequate processing time for the item through the airport. This hour lead-time is also considered at the time of order, which has an impact on the destination delivery time.
The courier offers its customers access to an immediate same-day delivery service from the airport of various-sized and time-sensitive freight. For any questions relative to a specific airport pick up request, contact AQuickDelivery and a customer service specialist is available to assist its customers with any of their same-day delivery needs.
AQuickDelivery is a premier same-day courier offering transportation and distribution services. From small packages to palletized freight, AQuickDelivery delivers fast! As a leader in the courier industry, their goal is to perform optimal courier logistic solutions and superior customer service every time. The courier provides same-day delivery successfully for over 1,500 clients, including Fortune 500 companies.