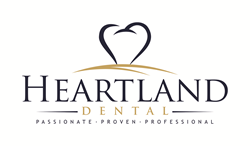 "With this additional facility, we have an excellent opportunity to enhance our dental office support, facilitate growth and increase new employment opportunities in the Effingham area."
Effingham, IL (PRWEB) September 08, 2014
Heartland Dental, LLC, the largest dental support organization in the United States, recently opened additional office space in Effingham, Illinois, to support the organization's continual employment growth.
"We are excited with the new growth support this facility will provide our organization. In 2013, Heartland Dental was named the No. 3 job creator in the country and the No. 1 job creator in Illinois on Inc. Magazine's Hire Power List. Recently, we were once again among the nation's fastest growing companies on the Inc. 5000 list. With this rapid development, increased growth support is needed," said Rick Workman, DMD, founder and chief executive officer at Heartland Dental. "With this additional facility, we have an excellent opportunity to enhance our dental office support, facilitate growth and increase new employment opportunities in the Effingham area."
The 43,000 square foot office building, known as the Heartland Dental Support Center, is located just south of Heartland Dental's Home Office. Currently, the Heartland Dental Home Office employs over 400 team members in various administrative support areas such as accounting, human resources, marketing, supply procurement, information technology, payroll, insurance and more. The additional location will assist in housing new Home Office positions as the organization continues to grow.
"The support professionals who comprise our home office team provide the means to carry out our mission – supporting dentists with non-clinical, administrative responsibilities. Their dedication is essential for our purpose," explained Patrick Bauer, president and chief operations officer at Heartland Dental. "We need to continually build our talented team in order to carry out this mission. Gaining a new facility with additional space is very beneficial to accommodating this expansion."
About Heartland Dental
Heartland Dental, LLC is the largest dental support organization in the United States with over 570 affiliated dental offices located within 26 states. Based in Effingham, Illinois, Heartland Dental supports over 900 affiliated dentists and over 6,700 team members by offering continuing professional education and leadership training along with a variety of non-clinical administrative services including staffing, human relations, procurement, administration, financial, marketing and information technology. For more information, visit http://www.Heartland.com. Follow Heartland Dental on Facebook, Twitter and LinkedIn.