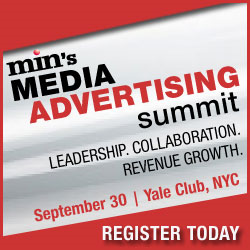 New York, NY (PRWEB) September 08, 2014
min has announced the speakers and program for its east coast event, the Media Advertising Summit, which brings together thought leaders from agencies, brands and magazines to share thoughtful, actionable perspectives on how best to grow revenue, engagement, ROI and brand visibility. Companies including HBO, Mashable, Aflac, GroupM, Simon Malls, DigitasLBi, Glamour, Forbes Media, XOGroup, MediaVest USA, Siemens Corporation and Starcom USA will share their latest success stories using new kinds of advertising solutions, publisher-brand collaboration stories and integrated marketing case studies.
The early bird rate ends Wednesday, September 10, 2014. Group packages are available. For complete information regarding min's Media Advertising Summit, visit http://www.minadvertisingsummit.com.
The Media Advertising Summit will be held Tuesday, September 30, 2014 at the Yale Club in New York City. This niche, interactive conference is specifically designed for magazine media and publishing executives including CEOs, CFOs, content directors, corporate brand leaders, ad directors, marketing executives, web directors, media planners, publishers and social media strategists. Panel topics include online video trends, the mind of the modern CMO, insights into media consumption and consumer decision-making and how to drive ROI with social media.
Keynoting the summit will be Kim Matlock, senior director, digital marketing and CRM at Hard Rock International. During her keynote, Matlock will address the specific brand objectives for engaging Hard Rock's customers and the types of roles Hard Rock looks for from its media and agency partners. Learn more about the keynoter.
The day before the summit, min will host a half-day SEO Workshop for media teams to learn the latest best practices and walk away with action items that can immediately be put to use to make content more competitive in the crowded digital ecosystem.
For sponsorship information, contact Tania Babiuk at tbabiuk(at)accessintel(dot)com or 203.899.8498. For questions regarding registration, contact Marly Zimmerman at mzimmerman(at)accessintel(dot)com or 301.354.1703.
The Media Advertising Summit is presented by min, the industry's most trusted source on the consumer and b2b magazine business, reaching thousands of media executives through print, online and in-person events. For more than 60 years, min has been serving the magazine and media community with unparalleled coverage of thisever-changing industry. For more information, visit minonline.com.