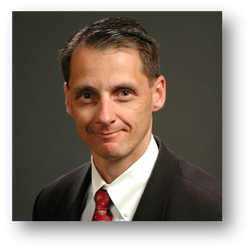 Furman's passion for Voyagers Leadership is a way of giving back, and helping drive a spirit of collaboration within the Federal IT community.
Alexandria, Va. (PRWEB) September 09, 2014
Robbins Gioia (RG) is proud to announce that Steve Furman has been selected to serve as a 2015 Industry Vice Chair for the American Council for Technology (ACT) – Industry Advisory Council's (IAC) Voyagers Leadership Program. In this new role, Furman will help Voyagers gain insights into how government and industry work, acquire career enhancing skills and knowledge, and learn to be a leader in changing organizational structures.
The Voyagers Program prepares "rising stars," mid-level leaders, for their future roles in government and industry. A panel of government and industry senior executives selects participants from a competitive pool of candidates. Participants benefit from real world leadership training based on the Office of Personnel Management's Executive Core Qualifications and build a trusted collaborative network of government and industry executives focused on solving government's toughest challenges.
As a 2011 Partner's Fellow, Furman is active in a wide range of ACT-IAC leadership roles, including: the 2014 Management of Change Conference (MOC) Track Chair, panelist for selected ACT-IAC events, MOC Session Facilitator, Plenary Speakers Committee, as well as serving on the MOC 2015 Leadership Planning Committee. His passion for Voyagers Leadership is "a way of giving back, and helping drive a spirit of collaboration within the Federal IT community," he says.
As the Senior Vice President of Strategic Programs at U.S. owned and operated RG, Furman is responsible for customer satisfaction and quality, integrating service offerings, and achieving clients' return on investment business objectives. He has led multi-million dollar business units focused on Government Civilian Agencies. Furman works with government leaders on strategic initiatives introducing capabilities to clients on transformational initiatives, such as: enterprise business architecture, requirements management, shared services, cybersecurity, strategic planning and management, performance improvement, and organizational and human capital management.
More information about the newly-selected members of the 2015 Voyagers Program can be found at http://www.businesswire.com/news/home/20140904005178/en/ACT-IAC-Selects-%25E2%2580%259CRising-Stars%25E2%2580%259D-10th-Voyagers-Program#.VAnFSaHD_IU
About Robbins Gioia
For more than 30 years, Robbins Gioia (RG) has helped private and public organizations successfully achieve their toughest, riskiest, and most critical initiatives. Our clients are successful because at RG, we use the highest criteria to build and manage solutions tailored to each unique organization. Visit us online at http://www.robbinsgioia.com.