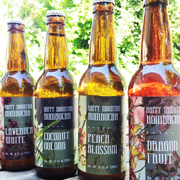 "Oktoberfest is one of the most commonly recognized beer festivals in the world and is a time for people to celebrate their love for a good brew."
Denver, CO (PRWEB) September 09, 2014
September is here, which means breweries need to begin preparing for Oktoberfest celebrations. Beer fanatics across the globe will be celebrating the two-week festival, and if beer manufacturers want to get in on the celebrations, they may want to consider coming out with a special brew and matching beer labels. Lightning Labels, a custom label and sticker printing company, can help brewers target beer aficionados with eye-catching labels.
Spiegel Online reported more than 6.4 million visitors drank 6.7 million liters of beer during last year's Oktoberfest in Munich, Germany. However, celebrations are not limited to the home country of Oktoberfest, as many people from across the world participate in the festivities. It is not unusual to see people celebrating Oktoberfest in the United States, Canada and other corners of the globe.
"Oktoberfest is one of the most commonly recognized beer festivals in the world and is a time for people to celebrate their love for a good brew," said Scott Proctor, Vice President of Sales at Lightning Labels. "If brewers produce an Oktoberfest or autumn beer, they should make sure it is labeled appropriately to let potential buyers know. Lightning Labels is the one-stop shop for any beer brands looking to produce a label for their Oktoberfest beers."
Custom Beer Labels Help Capture the Spirit of Oktoberfest Anywhere in the World
Although Oktoberfest started in Germany, that does not mean beer brewers from across the world are excluded from the celebration, and custom beer labels are one way they can get in on the action.
Traditionally, an Oktoberfest beer must conform to Reinheitsgebot, according the German Beer Institute, and needs to be brewed within the city limits of Munich. However, as the celebration gained international attention, many breweries across the globe began producing their own seasonal beers inspired by Oktoberfest. People can even brew Oktoberfest beers from their own homes!
Regardless of how people brew their Oktoberfest beers, there is no denying that the label is an incredibly important part of the process. Whether people are trying to sell their beer commercially or are simply making a home brew variant for Oktoberfest parties, the label ties the whole package together perfectly to fit the mood.
What do Oktoberfest Beer Bottle Labels Look Like?
Although brewers can design Oktoberfest beer bottle labels however they like, there are a few common themes observed with beer bottle labels.
Because Oktoberfest takes place at the end of September through the beginning of October, most beer labels feature earthy colors and orange foliage to celebrate the fall. Of course, Oktoberfest brews should feature all of the necessities of a normal beer label as well, including alcohol content, ingredient lists and any promotional blurbs.
Whether companies are brewing Oktoberfest brews or beers for a different season, Lightning Labels can help them produce professional high quality labels at an affordable price.