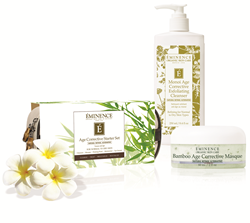 Each product in the collection harnesses the anti-aging power of our exclusive Natural Retinol Alternative and PhytoCellTec™ Swiss Green Apple Stem Cell Technology
(PRWEB) September 08, 2014
In 2012, Éminence Organic Skin Care redefined anti-aging skin care with the launch of their Age Corrective Collection. Today, Éminence is revolutionizing the skin care industry with two new products and an all-inclusive Starter Set that will complete the anti-aging line. The Monoi Age Corrective Exfoliating Cleanser, Bamboo Age Corrective Masque and Age Corrective Starter Set will be available to purchase at select spas and salons worldwide as of September 5, 2014.
Aging skin impacts everyone eventually. Regardless of whether it is fine lines or crow's feet, most people want to take steps to correct them. Some go to drastic lengths and often look to synthetic skin care solutions to regain their youthful appearance, but this is no longer necessary because Éminence has the ultimate Age Corrective Routine that is just as results-oriented, and it's all natural and organic.
Repair aging skin naturally by using each of the Age Corrective products in Éminence's easy-to-follow skin care routine with seven unique steps. A complexion that looks, and acts, completely ageless is simple and easy with featured botanical actives such as Natural Retinol Alternative and PhytoCellTec™ Swiss Green Apple Stem Cell Technology specially formulated to erase the signs of aging skin. The Natural Retinol Alternative contains chicory root and tara tree which mimics and out-performs conventional retinol. Plus, the addition of Swiss Green Apple Stem Cells delivers an increase in cell regeneration and longevity to provide incredible results:

Collagen levels increase by 25% in just 6 days
Skin appears tightened and firm in as little as 5 minutes
Wrinkles and crow's feet dramatically soften in 28 days
"As one of our most popular collections, our Age Corrective products are continuously hitting our top 10 best sellers list. Due to widespread demand, and in order to make it easier for consumers and spa partners to capture the true benefits of a complete Age Corrective Routine, we are introducing two new products to the collection," says Boldijarre Koronczay, President of Éminence Organic Skin Care. "Each product in the collection harnesses the anti-aging power of our exclusive Natural Retinol Alternative and PhytoCellTec™ Swiss Green Apple Stem Cell Technology. The new masque offers the additional benefits of our Anti-Aging Stem Cell Complex to reduce wrinkle depth by 26%. These advanced anti-aging actives will erase and repair the signs of aging and when all the products are used in conjunction, the results are astounding!"
For more information, images and sample requests please contact Elisa Kosonen at ekosonen(at)eminenceorganics(dot)com or 1.604.505.3103.
About Éminence Organic Skin Care
Éminence Organic Skin Care is the award-winning provider of the most effective skin care products in the natural and organic skin care industry. With more than half a century of herbal craftsmanship and innovation, and several centuries of unsurpassed skin rejuvenation techniques unique to Hungary, they offer the highest quality natural skin care to leading salons, spas and their clients in more than 40 countries around the world. Éminence's superior spa treatments and products rely on a unique combination of hand-picked fresh ingredients. Vitamins are captured in their all-natural fresh base, offering dramatic results as actual seeds, pulps and peels begin the regenerative and healing powers that only nature can produce. Voted "Favorite Skin Care Line" by spa professionals and seen as Hollywood's skin care secret, with devoted fans such as Madonna, Jessica Biel, Katherine Heigl, Jena Malone and Mark Ruffalo, Éminence is renowned for premium organic and Biodyanmic® skin care that enhances your well-being naturally. A commitment to the environment is integral to their business practices and they strive to create products that are good for the earth as well as good for the skin. By enlisting wind and solar power energy in the making of products, recyclable packaging with vegetable-based inks, geothermal heating in the laboratory and an eco-alternative design of the head office, Éminence does all that they can to combat climate change. Starting in the fall of 2012, the Forests for the Future initiative brought that commitment to the environment to a whole new level by planting a tree for every product sold. Visit http://www.eminenceorganics.com for more information.