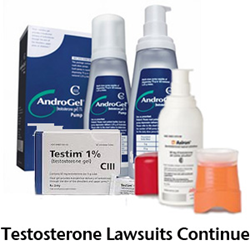 If your believe you have suffered cardiovascular problems due to Androgel, Testim, Androderm or other Testosterone Treatment Drugs Call Wright & Schulte today for a Free Legal Evaluation at 1-800-399-0795 or by visiting www.yourlegalhelp.com
Columbus, OH (PRWEB) September 07, 2014
Wright & Schulte LLC notes the number of testosterone lawsuit complaints pending in the U.S. District Court, Northern District of Illinois rose 13 percent in the past month due to more complaints being filed on behalf of men who allege that they have suffered heart attacks, blood clots, strokes and other health problems after using one or more low testosterone treatment products. According to the court's master case list, testosterone therapy lawsuits have increased from 156 on July 15th, to 177, as of August 15th, 2014. Complaints against the manufacturers of such testosterone products as AndroGel, Androderm and Testim, have been mounting since June 6th, when a panel of federal judges transferred testosterone lawsuits filed in federal courts across the country to the Northern Illinois federal court for pretrial proceedings. (In re: Testosterone Replacement Therapy Product Liability Litigation – MDL No. 2545) U.S. District Judge Matthew F. Kennelly presiding over the litigation.
[jpml.uscourts.gov/sites/jpml/files/Pending_MDL_Dockets
_By_District-August-15-2014.pdf, August 15, 2014]
Since January, the U.S. Food & Drug Administration (FDA) has been reassessing the safety of testosterone products that treat hypogonadism, which is low testosterone levels in men due to an underlying medical condition, such as problems with the hypothalamus gland or side-effects from chemotherapy treatment. The federal agency announced its concerns over testosterone replacement therapy after reviewing two studies that associated cardiovascular problems with the use of testosterone replacement therapy drugs. One study, published in the November 2013 Journal of the American Medical Association, found that older men who had underlying cardiovascular disease and took low testosterone treatment had a 30 percent increased risk of having a stroke, heart attack or death compared to men who did not take the low testosterone medication. The second study published in the PLOS One Journal on January 29, 2014, found that men over 65 and younger men with a pre-existing heart disease who were prescribed testosterone drugs were at a greater risk of having a heart attack within the first 90 days after taking the medication for the first time.
[fda.gov/Drugs/DrugSafety/ucm383904.htm, January 31, 2014]
[plosone.org/article/info%3Adoi%2F10.1371%2Fjournal.pone.0085805, January 29, 2014] [jama.jamanetwork.com/article.aspx?articleid=1764051, November 6, 2013]
The firm continues to investigate testosterone treatment drug side-effects and speaks with men daily who have purportedly suffered heart attacks and strokes due to Low T drugs such as AndroGel, Androderm, Testim and Depo. If you believe you have suffered serious cardiac side-effects from taking testosterone drugs contact an attorney at Wright & Schulte LLC for a very legal evaluation by calling 1-800-399-0795 or you can visit http://www.yourlegalhelp.com for more information on this and other potentially harmful drugs.
In June, the FDA took further action to regulate testosterone products by directing makers of all FDA-approved testosterone replacement therapy medications to include a general warning on their drug labels about the risk of blood clots developing in veins. Testosterone drug labels previously had a warning about venous blood clots resulting as a consequence of polycythemia, an abnormal increase in the number of red blood cells that sometimes occurs with testosterone treatment. According to the FDA, post-market reports showed blood clots are occurring that are unrelated to polycythemia. The FDA plans to meet on September 17 with two of its advisory panels to further discuss the cardiovascular risks linked to low testosterone medication.
[fda.gov/drugs/drugsafety/ucm401746.htm, June 19, 2014]
[fda.gov/AdvisoryCommittees/Calendar/ucm404905.htm, July 17, 2014]
Around the same time the FDA announced its September meeting on testosterone replacement drugs, Health Canada directed a safety alert to patients and healthcare professionals on the potential life-threatening heart and blood vessel problems associated with testosterone replacement therapy products such as Andriol, Androderm, AndroGel, Axiron, Delatestryl, Depo-Testosterone, Testim and their equivalent generics. In July, Canada's federal health department also announced that it had instructed testosterone manufacturers to update their drug labels to reflect the risk of heart attack, stroke, blood clots in the lungs or legs, and increased or irregular heart rate linked with the use of low testosterone medication.
[healthycanadians.gc.ca/recall-alert-rappel-avis/hc-sc/2014/40587a-eng.php, July 15, 2014]
Court records indicate that a testosterone treatment lawsuit was recently filed on behalf of a California man who alleges that Depo-Testosterone injections caused him to have multiple heart attacks. The lawsuit against Pfizer Inc, which manufactures Depo-Testosterone, was filed July 31, 2014, in the U.S. District Court, Central District of California (Case 2:14-cv-06026). According to the testosterone lawsuit, the California man was 39 years old when he was prescribed Depo-Testosterone on May 25, 2011 and continued receiving testosterone injections until August 29, 2012. The testosterone lawsuit further stated that the man was diagnosed with multiple acute infarctions on August 6, 2012 and was hospitalized for a prolonged period of time. The testosterone complaint alleges that due to the man's injuries, he is at a markedly increased risk of additional cerebrovascular accidents and death. The complaint further purports that Pfizer misrepresented to the plaintiff, the public and the medical profession that Depo-Testosterone is safe and free from serious defects and side effects. It also goes on to state that if Pfizer had properly disclosed the risks associated with testosterone, the plaintiff would have avoided the risk of injury by either not using testosterone at all, or severely limiting the dosage and length of use, and by closely monitoring the degree to which the drugs were adversely affecting his health.
About Wright & Schulte LLC
Wright & Schulte LLC, an experienced personal injury firm, is dedicated to the belief that America's legal system should work for the people. Every day, the attorneys of Wright & Schulte LLC stand up for the rights of people who have been injured or wronged and fight tirelessly to ensure that even the world's most powerful corporations take responsibility for their actions. If you're looking for a law firm that will guarantee the aggressive and personal representation you deserve, please do not hesitate to contact Wright & Schulte LLC today. Free low testosterone lawsuit case evaluations are available through yourlegalhelp.com or by calling 1-800-399-0795.
Contact:
Wright & Schulte LLC
812 East National Road
Vandalia, Ohio 45377
1-800-399-0795
http://www.yourlegalhelp.com
Like us on Facebook
Follow us on Twitter
Join us on Google+