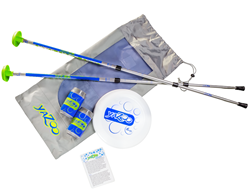 Those behind SeaTurtle Sports have been able to astutely navigate the unknown and lead product development in the social outdoor games category; a category that didn't exist not too long ago.
New Orleans, Louisiana (PRWEB) September 11, 2014
With the release of two premium outdoor games, two national television presentations (Fox & CBS), and new strategic partnerships, SeaTurtle Sports is gaining traction throughout the outdoor games and lifestyle market. In September and November 2014, SeaTurtle Sports will add two new games to its roster, Yazoo and Turtle Toss, expanding their suite of social games to four unique and highly sought after products.
Yazoo (http://seaturtlesports.com/products/yazoo) will be the first new release, a disc throwing game similar to "Beersbee," a fast-growing pastime amongst college students and young professionals. This game is played by throwing a disc back and forth while trying to knock over a can placed on top of a pole. Yazoo advances the game concept from the few sets currently available on the market, with premium packaging and customized components including retractable poles for portability and adaptable playing height, custom molded caps, and a beautifully-crafted carrying case.
Turtle Toss (http://seaturtlesports.com/products/turtle-toss) breaks new ground in the crowded cornhole and bag toss category with its portability, weighing in at under seven pounds, and with its patent-pending one-piece collapsible target board. Paired with colorful, barrel-shaped bags that expand the range of possible shots, Turtle Toss challenges players to score in three different size holes, with the highest points awarded to tosses in the smallest hole. This premium set also comes with a custom carry bag, an easy companion for an outing to the park, tailgating, a vacation, or wherever your free time takes you.
SeaTurtle Sports' growth accompanies its rising national profile, with its inaugural Beach Bocce Ball and Beach Bocce Ball Mini products recently featured on the highest viewed morning show, Fox Network's Fox & Friends, in its July 4th weekend bash segment on June 29, 2014. This exposure with Fox & Friends' dramatically increased awareness and spiked sales, with numerous inquiries into new product releases. Most recently, Beach Bocce Ball and Beach Bocce Ball Mini were featured on CBS Better Mornings Atlanta, which was also extremely well received.
SeaTurtle Sports' innovation extends beyond its games, with an emphasis on social initiatives including sponsorship of Kiva micro-enterprises, mentoring college interns engaged in entrepreneurship, and through a partnership with Games for Troops (gamesfortroops.org).
SeaTurtle Sports enthusiast and fellow entrepreneur Matt Butler says, "SeaTurtle Sports has always been ahead of the curve in the outdoor social games market with the release of Beach Bocce Ball just under a decade ago. Launching and successfully branding a new pastime and category is way beyond child's play. Those behind SeaTurtle Sports have been able to astutely navigate the unknown and lead product development in a category that didn't exist not too long ago. I can't wait to see what's next for SeaTurtle Sports in addition to their two new products."
SeaTurtle Sports products have been marketed and sold through national retailers including Tommy Bahama, Frontgate, Brookstone, Hayneedle, and Wayfair. The company continues to add partners that complement the distinct and premium characteristics of its products. Their games and lifestyle accessory products are also available directly through their website, seaturtlesports.com.
SeaTurtle Sports began with a simple goal in mind: get family and friends together and away from the distractions of our busy world. Through vacationing at retreats like Perdido Key and Grayton Beach, Florida, an inspiration was struck for SeaTurtle Sports' first game, Beach Bocce Ball.
With Beach Bocce's amazing reception and passionate testimonials, SeaTurtle Sports went on to create other easy-to-play, high quality games like Yazoo and Turtle Toss. SeaTurtle Sports will always be about designing games and lifestyle products that bring people together to share good times and great memories.
SeaTurtle Sports can be contacted by telephone toll-free (1-855-378-1176).