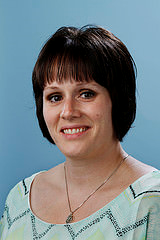 GREENSBORO, NC (PRWEB) September 09, 2014
Andria Hollingshead, of Lincoln, NE, is fulfilling her commitment to serve the military and veteran population. In 2013, Hollingshead received a $5,000 military scholarship from the NBCC Foundation. The military scholarship is awarded to service members and veterans pursuing a master's degree in counseling who commit to serving military personnel, veterans and their families for at least two years upon graduation. Prior to receiving the scholarship, Hollingshead served in the Army for over 12 years.
According to Hollingshead, the Foundation scholarship made a significant difference because it allowed her to move to a city where she was able to serve more military personnel and veterans. The scholarship also allowed her to continue working toward her degree with a full-time internship.
Since receiving the scholarship, Hollingshead has completed her Master of Education in clinical mental health counseling from the University of Nebraska at Kearney and transitioned from her internship to a full-time position as a substance abuse counselor with the Department of Veterans Affairs. Hollingshead provides intensive outpatient maintenance and education for substance abusers and family programming to help younger veterans. As a veteran and a current member of the reserves, she says that being able to give back to this community is very rewarding.
Hollingshead is also an active member of the Nebraska Association for Lesbian, Gay, Bisexual and Transgender Issues in Counseling (NALGBTIC). NALGBTIC recently held its first annual conference, which focused on rural health care and addictions. Hollingshead led a panel discussion at the conference, and she looks forward to continuing to inform counselors and the public about these topics.
The Foundation is proud of this 2013 military Scholar and the great strides she is making in the counseling profession. One hundred percent of all individual donor contributions go directly toward funding Foundation programs, such as scholarships. Donate now at http://www.nbccf.org/donate and join the Foundation in bridging the gap in access to quality mental health services.
###
About the NBCC Foundation
The NBCC Foundation is the philanthropic affiliate of the National Board for Certified Counselors (NBCC), based in Greensboro, North Carolina. NBCC is the nation's premier professional certification board devoted to credentialing counselors who meet standards for the general and specialty practices of professional counseling. Currently, there are more than 54,000 National Certified Counselors (NCCs) in the United States and more than 50 countries. The Foundation's mission is to leverage the power of counseling by strategically focusing resources for positive change.