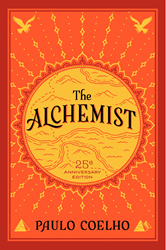 "When you want something, the whole universe conspires to help you achieve it."
San Francisco, CA (PRWEB) September 05, 2014
In the 25 years since the publication of his universally beloved internationally bestselling novel, The Alchemist, Paulo Coelho continues living his dream: to be a writer. To celebrate this milestone, U.S. publisher HarperOne is publishing a 25th Anniversary Edition in two formats: trade paperback ($16.99 ISBN: 9780062315007) and hardcover ($24.99 ISBN: 9780062390622). Both editions include newly designed cover art and a new foreword by the author.
"Paulo Coelho is one of a very select handful of top, globally renowned bestselling authors. He is also a digital literary pioneer, wisdom teacher and philanthropist." says Mark Tauber, Senior Vice President and Publisher of HarperOne. "We at HarperOne are beyond honored to be publishing The Alchemist all these 25 years after it first came across our editorial conference table."
Translated into 80 languages, The Alchemist has sold more than 150 million copies worldwide, and steadily appears on bestseller lists around the world. It is currently #2 on the New York Times Paperback Fiction Best Sellers list, and has remained on The New York Times trade fiction bestseller list longer than any other title. In Coelho's native Brazil, it has sold more copies than any other book in history.
Coinciding with the 25th anniversary, Paulo Coelho is interviewed by Oprah Winfrey in the two-part season premiere of "Super Soul Sunday" on OWN: Oprah Winfrey Network airing at 11:00am ET/PT Sunday, September 7 and Sunday, September 14, 2014 (http://www.oprah.com) and simultaneously livestreamed at http://www.oprah.com/own-super-soul-sunday/Super-Soul-Sunday-Worldwide-Simulcast-FAQs
Among many famed and quoted lines from The Alchemist:
"To realize one's destiny is a person's only obligation."
"When you want something, the whole universe conspires to help you achieve it."
The Alchemist is a novel about knowledge, destiny, and journeying to discover one's personal legend. It has been cited as a favorite book of presidents, celebrities, musicians, and other notables who have excelled in their chosen fields, and become an important book for young readers and recent graduates as an inspiring catalyst for fulfilling dreams.
Born in Rio de Janeiro in 1947, Paulo Coelho is one of the most influential bestselling authors in the world. His combined works have sold more than 150 million copies worldwide. Visit the author online at http://www.paulocoelhoblog.com.
HARPERONE
HarperOne, a division of HarperCollinsPublishers, strives to be the preeminent publisher of the most important books and authors across the full spectrum of leadership, healthy living, family & relationships, social change, spirituality and personal growth literature, adding to the wealth of the world's wisdom by stirring the waters of reflection on the primary questions of life and affecting authentic change.
HARPERCOLLINS PUBLISHERS
HarperCollins Publishers is the second largest consumer book publisher in the world, with operations in 19 countries. With nearly two hundred years of history and more than 65 unique imprints around the world, HarperCollins publishes approximately 10,000 new books every year, in over 30 languages, and has a print and digital catalog of more than 200,000 titles. Writing across dozens of genres, HarperCollins authors include winners of the Nobel Prize, the Pulitzer Prize, the National Book Award, the Newbery and Caldecott Medals and the Man Booker Prize. HarperCollins, headquartered in New York, is a subsidiary of News Corp and can be visited online at corporate.HC.com
# # #