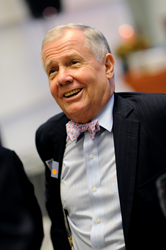 London (PRWEB UK) 6 September 2014
Liquid Investments are hosting an Investing Summit in Fortaleza, Brazil, to discuss the global economic environment, the wholesale shift into alternative assets and the importance of emerging markets exposure to the generation of superior returns.
Please find below a summary of the presentations scheduled for the event:
Jim Rogers (Chairman, Jim Rogers Holdings)
How I See the World Today and Why Agri is the Smart Play
Anthony J. Archer (Founder & Chief Executive, Liquid Investments)
Primal Investing - The New Order of Things
Sandeep Chadha (Chief Financial Officer, Liquid Investments)
The Economic Attractions of Agriculture
Wayne P. Kurtz (Chief Commercial Officer, Liquid Investments)
Risk Adjusted Returns
Joel M. Nagel (Managing Partner, Nagel & Associates LLP)
The Era of FATCA has arrived: Is it the Start of US Capital and Exchange Controls?
Ítalo Bandeira Fernandes (Founding Partner Abax Auditing and Consulting)
The Importance of Project Due Diligence in Brazil
For a full itinerary of speakers and events, click here.
Attendees also have the opportunity to meet Cohibra (Liquid's joint venture partners) and receive a signed copy of 'Street Smarts' by Jim Rogers. Complimentary neem and coconut products will also be on offer.
Email - tours(at)liquid-investments(dot)com or call +44 (0) 20 7084 7421 for any questions regarding the Tour or Summit.
Note to Editors:
Liquid Investments is a provider of global investment solutions allowing institutional and private investors the opportunity to accumulate wealth through safe and secure alternative investments in emerging markets.
Liquid's investment process is driven by 'Liquid Investment Theory' (LIT). Refined from Modern Portfolio Theory, itself used in one form or another by all fundamentally driven investors, LIT focuses on investing in tangible alternative assets that provide a greater degree of security (such as asset secure farmland), with products that deliver a consistently higher level of returns (currently double digit annual yield) to a wide variety of end-user markets.
Founded in 2006, the organisation is headquartered in Knightsbridge, London and with an office in Fortaleza, Brazil.
For further information:
Jayshree Badhan, Chief Marketing Officer - Jayshree.badhan(at)liquid-investments(dot)com
Call- +44 20 7084 7421