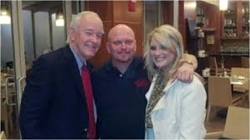 Seattle, Washington (PRWEB) September 05, 2014
On Sunday September 7, 2014 the Seattle Chapter of the NFL Former Players Association , Living Heart Foundation (LHF) and Pro Player Health Alliance (PPHA) will be hosting a HOPE (Heart, Obesity, Prevention, Education) Program health evaluation for former NFL players living in the Seattle area. The event will be taking place at the University of Washington Medical Center. Over 50 former players are expected to show up for what promises to be another successful HOPE Program health evaluation. These health evaluations consist of extensive tests and evaluations focused on, but not limited to, extensive blood testing, pulmonary function testing, dental evaluations and sleep apnea screening/testing. Three doctors from the Seattle area have been selected as the dentistry and sleep medicine providers for the Seattle chapter of the NFL Players Association.
Dr. Steve Carstensen DDS, graduate of the Baylor College of Dentistry has been named the dental sleep medicine provider for the NFLPA's Former Players Seattle chapter. Dr. Carstensen grew up in the Seattle area and has been practicing dentistry for nearly 30 years. During that time, he has become one of the nation's leading authorities on dental sleep medicine and currently serves as the President of the American Sleep & Breathing Academy Dental Division. Dr. Carstensen will be at the University of Washington Medical Center this Sunday to oversee the sleep apnea screening and testing portion of the HOPE Program health evaluation. If you would like to find out more about Dr. Steve Carstensen or his practice please visit http://www.stevecarstensendds.com.
Joining Dr. Carstensen in overseeing the sleep apnea screening and testing portion of the health evaluation will be Dr. Teresa Jacobs MD. Dr. Jacobs received her undergraduate degree from Brown University and went on to receive her doctorate from the Mount Sinai School of Medicine of New York University. She is board certified in sleep medicine and one of the most respected sleep specialists in the Pacific Northwest. If you would like more information on Dr. Jacobs or her practice, please visit http://www.creeksidesleepcenter.com.
Dr. Lance Timmerman DMD, a graduate of both the Oregon Health Sciences University School of Dental Medicine and Las Vegas Institute of Advanced Dental Studies, has been practicing general and cosmetic dentistry in the Seattle area for nearly 25 years. Dr. Timmerman is an avid fan of the Super Bowl champion Seattle Seahawks and is delighted to be chosen as the dental provider for the NFL Former Players Association Seattle chapter. Although this will be the first time he is providing his professional services to former NFL athletes, Dr. Timmerman is no stranger to the limelight surrounding the NFL. Earlier this year, Dr. Timmerman was invited by David Gergen, President of Pro Player Health Alliance, to attend the 9th annual Smocks & Jocks event hosted by the NFLPA at the Vermillion Restaurant in New York City. Dr. Timmerman and his wife, Liz, accompanied David Gergen to the event featuring jazz music, brunch and fine art created by former NFL players. A video of the Smocks and Jocks event featuring Dr. Timmerman and his wife can be seen at http://vimeo.com/87243581. He will be on-site for the HOPE Program health evaluation on September 7th at the University of Washington Medical Center providing dental evaluations to the former athletes. To find out more about Dr. Timmerman or his practice, please visit http://www.seattledentaloffice.com.
ABOUT LIVING HEART FOUNDATION
The Living Heart Foundation (LHF) is a nonprofit organization under IRS 501 (c) (3) code. The LHF was initially funded by a grant from the Edison Foundation. Subsequently, Funding sources and donations have been obtained from companies like Covidien, Pfizer, Meridian Health System, Siemens, Professional Athletes Foundation, and from individual sources. The LHF was established by Arthur J. Roberts, MD in April 2001 to combat sudden cardiac death and to provide cardiovascular risk stratification with early preventive intervention for cardiac, pulmonary, and metabolic conditions through on-site screening and integrated follow-up health programs. The LHF has published 10 peer review papers related to CV risk in college students & athletes, as well as former NFL athletes.
ABOUT THE NFL PLAYERS ASSOCIATION
The National Football League Players Association (NFLPA) is a non-profit, professional sports union that protects the best interests and welfare of all NFL players. Established in 1956, the NFLPA is governed by a Board of Player Representatives, acting in accordance with the NFLPA Constitution and federal labor laws. The NFLPA's responsibilities include: Representing all players in matters concerning wages, hours and working conditions and protecting their rights as professional football players; ensuring that the terms of the Collective Bargaining Agreement are met; negotiating and monitoring retirement and insurance benefits; providing other member services and activities; providing assistance to charitable and community organizations; enhancing and defending the image of players and their profession, on and off the field. For more information, visit http://www.NFLPlayers.com.
ABOUT PRO PLAYER HEALTH ALLIANCE
The Pro-Players Health Alliance (PPHA) is an organization dedicated to helping former NFL players, through providing testing and treatment options for those who suffer from sleep apnea. In addition, the PPHA is dedicated to integrating education and raising sleep apnea awareness, in a fun and memorable way. In addition to the campaign, the PPHA is dedicated to testing and getting people treated who suffer from sleep apnea. This has been stepped up by working though The Living Heart Foundation and its HOPE program sponsored by the NFLPA. The PPHA was created David Gergen, President of Gergen's Orthodontic Laboratories and Former NFL legends.
ABOUT DAVID GERGEN
David Gergen, CDT, rolled out of bed on December 4, 1982 and had his career "ah ha" moment. He knew he was going to be an orthodontic technician and he knew he was going to help people all over the country to help treat their sleep disorders in partnership with their dentists. David Gergen opened his family-owned orthodontic lab in Phoenix, AZ in 1986 and now employees over 80 people. David Gergen has been a nationally respected dental lab technician for over 25 years. He received the award for "The Finest Orthodontic Technician in the Country" given by Columbus Dental in 1986. He also received a lifetime achievement award by the Gelb Academy as America's greatest Orthodontic technician of all time, in 2012. He has worked for some of the pioneers in the orthodontic and sleep dentistry fields. Gergen and his father John Gergen began Gergen Orthodontic Lab in 1984 and have grown it into one of the most respected labs in the country. One of his proudest achievements is receiving The National Leadership award for Arizona Small Businessman of the Year in 2004. David is the Dental Director of the American Sleep and Breathing Academy and he has also taken a spot at Tufts University teaching seminars for the Continuing-Ed program on Dental Sleep Medicine.