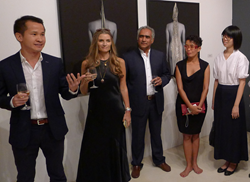 In recent years, Singapore has emerged as one of Asia's leading arts hubs.
New York, New York (PRWEB) September 05, 2014
Acclaimed international gallery, Sundaram Tagore Gallery has brought some of Singapore's leading artists to New York City in Anthropos New York. Curated by Loredana Pazzini-Paracciani, Anthropos New York reflects on the many facets of the human condition through the largely autobiographical work of artists from Southeast Asia.
Featuring an array of visual art forms including photography, painting, sculpture, video and mixed-media installations, the exhibition offers insights into the social, political and religious dynamics affecting the human condition in Singapore. This large-scale exhibition, on view concurrently at the gallery's Chelsea and Madison Avenue locations, offers a special opportunity to see work by some of Singapore's most innovative artists - Ho Tzu Nyen, Jason Wee, Jeremy Sharma, John Clang, and Lavender Chang. "We are very excited to present a dynamic group of Singaporean artists to the New York audience. These artists are exploring themes and ideas parallel to the gallery's mission, which is to develop exhibitions and events that spark social dialogue," said Mr. Sundaram Tagore.
At the opening reception co-hosted by the Sundaram Tagore Gallery and Singapore Tourism Board (STB), Mr. Lionel Yeo, Chief Executive of STB shared, "In recent years, Singapore has emerged as one of Asia's leading arts hubs. One of the driving forces behind the evolution of our arts scene is our talented local artists and I am heartened that this showcase provides an opportunity for us to profile Singapore's creative sector in New York City."
Signature art experiences in Singapore include the Singapore Biennale and the Singapore Art Week, which features a wide array of events including Asia's leading art fair Art Stage Singapore. Singapore's newest contemporary art enclave, Gillman Barracks, is home to 16 leading international galleries – including Sundaram Tagore Gallery - and the Centre for Contemporary Art, which positions itself as a center for critical discourse and experimental practices. Next year, two museums – Singapore Pinacotheque de Paris and the National Gallery Singapore – will open and showcase a rich collection of rarely accessible masterpieces and the world's largest collection of modern Southeast Asian art respectively. This diverse visual arts landscape sets Singapore apart from other budding art cities in Asia.
"The good mix of hardware and software, and the growing prominence of our local talents, will anchor Singapore's position as an arts hub and continue to raise the awareness of and demand for visual arts in the region," adds Mr Yeo.
About the Artists
HO TZU NYEN, who was featured in the Guggenheim show No Country: Contemporary Art for South and Southeast Asia, makes films, videos and stages live performances related to historical and philosophical texts and artifacts. Ho is one of Singapore's most prominent artists.
JASON WEE divides his time between Singapore and New York, and his art traces the arc of changing histories and spaces, transforming these changes into visual and written materials. Wee is the founder of Grey Projects, Singapore, an alternative art space that focuses on emerging practices and censorship.
JEREMY SHARMA works primarily as a painter, but his body of work includes video, photography, drawing and installation. His practice investigates the concept of art as a reflection of a conscious life in the age of mechanical, industrial and digital reproduction and interconnectivity.
JOHN CLANG'S work focuses on time, displacement and human existence. His photography examines and raises questions about the world he lives in, offering not pictorial documentation, but an intimate reflection of his mind.
LAVENDER CHANG'S conceptual photography is a reflection of her sensitivity toward the physical and psychological human experiences surrounding her. She focuses these subtle experiences to create images that invite further contemplation, suggesting the passage of time, intimacy and morality.
About the Curator
Loredana Pazzini-Paracciani holds a master's degree in Asian Art Histories and is a lecturer in the Singapore LASALLE-Goldsmiths Fine Arts Programme. She writes for academic journals, art magazines and symposium publications, and works as an independent curator for commercial and institutional organizations in Singapore, Bangkok, New York and London, improving the visibility of young and emerging artists from Southeast Asia. Her academic and curatorial focus is the contemporary art of Thailand.
About Singapore Tourism Board
The Singapore Tourism Board (STB) is a leading economic development agency in tourism, one of Singapore's key service sectors. Known for partnership, innovation and excellence, STB champions tourism, making it a key economic driver for Singapore. We aim to differentiate and market Singapore as a must-visit destination offering a concentration of user-centric and enriching experiences through the "YourSingapore" brand. For more information, please visit http://www.stb.gov.sg or http://www.yoursingapore.com.
About Sundaram Tagore Gallery
Established in New York City in 2000, Sundaram Tagore Gallery is devoted to examining the exchange of ideas between Western and non-Western cultures. With Spaces in Singapore, Hong Kong, and New York City, we focus on mounting exhibitions and hosting not-for-profit events that encourage spiritual, social and aesthetic dialogues. With alliances across the globe, our interest in cross-cultural exchange extends beyond the visual arts into many other disciplines, including poetry, literature, performance art, film and music.