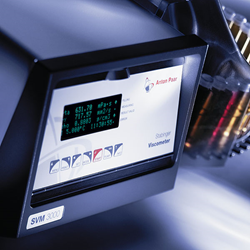 Ashland, VA (PRWEB) September 09, 2014
As of August 2014, ASTM D7042 was included as the newest form of viscosity testing at -20˚C for Jet Fuel Specification D1655. Anton Paar's SVM 3000 Stabinger Viscometer can now be utilized to certify jet fuels, diesel, fuel oils, gas turbine fuel oils, and aviation fuels with synthesized hydrocarbons. As a result of these new specifications the SVM 3000 is the only approved instrument to perform the newly accepted D7042 testing method.
Positive benefits of D7042 include:

No glassware
No water bath
3.5 mL sample size
The D7042 viscosity testing method revolutionizes the way petroleum fuels are certified in accordance with strict ASTM Fuel Specifications. Peltier elements heat and cool the small sample while the SVM 3000 performs frictionless viscosity measurements considered statically equivalent to D445.
To learn more about the SVM 3000 Stabinger Viscometer and ASTM D7042 visit http://www.anton-paar.com.