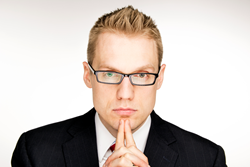 As an entrepreneur, I get it. Entrepreneurs have little time and even less money. Thrive15.com was designed for them.
Tulsa, Oklahoma (PRWEB) September 09, 2014
Many aspiring entrepreneurs enroll in business schools to learn how to start and grow a business, but it may take as much as $100,000 and four years of their time to get their degree. According to US News & World Report, in 2013, the average cost of the tuition for the top 10 business schools in the U.S. was $111,418 for just two years of an MBA program.
However, Thrive15.com CEO, Doctor Robert Zoellner and his team believe that they have created a patent-pending system that could dramatically decrease the cost of obtaining world-class business training by 95% while simultaneously increasing the quality of trainings and the amount learned by the student. By fusing together the elements of gamification, entertainment and education, the Thrive15.com entrepreneurial online school promises to provide education taught by millionaires, mentors and everyday entrepreneurial success stories.
CEO Doctor Zoellner, and the Thrive15 team factored in the research that exists about how humans learn and the overall Cognitive Load Theory when creating the patent-pending $49 per month Thrive15.com method of training. To combat the enemy of learning called "boredom," Thrive15 focuses on user engagement.
"The basic idea was that the cognitive capacity in working memory is limited. So if a learning task requires too much capacity, your learning will be hampered. If you have ever found yourself in a classroom, fighting to stay awake while listening to an hour-long lecture, you may have been cognitively overloaded," says Thrive15 inventor and COO, Clay Clark.
"I have been using the Thrive15 method for the last couple of years and it's been a game-changer for me. I've really watched a ton of management and accounting trainings. And because the trainings are taught by millionaires and other successful people who are being interviewed by a hilarious person, I don't get bored," says Thrive15.com subscriber and small business owner Randy Curtis of Wizard of Saws.
The Thrive15 courses are taught by world-class business leaders such as, NBA Hall of Famer turned private equity fund and entrepreneur, David Robinson and former EVP of Operations of Walt Disney World Resort Lee Cockerell who once managed 40,000+ employees.
"As an entrepreneur, I get it. Entrepreneurs have little time and even less money. Thrive15.com was designed for them," says Thrive15 COO, Clay Clark.
###
Quick Facts Thrive15:

Thrive15.com was founded by, Chief Operating Officer, and Oklahoma's former U.S. Small Business Administration Entrepreneur of the Year, Clay Clark
Trainings and content provided by millionaires mentors and everyday entrepreneurial success stories.
Thrive15.com offers practical online education platform offers training in: Wheel of Wealth content offers best-practice trainings in twenty different areas of business including accounting, sales, marketing, raising capital, leadership and countless other business areas.
The Chief Executive Officer of Thrive15.com is doctor, entrepreneur, and venture capitalist Doctor Robert Zoellner.
Thrive15.com features such celebrity mentors as David Robinson, Lee Cockerell (the former Executive Vice President of Walt Disney World Resorts who once managed 40,000 + employees, and many other mentors who have turned an idea into a successful business.
Thrive15.com's 1 for 1 Handup Movement provides free access to the website for all current, former and reserve members of the U.S. military and their spouses.
Thrive15.com has been mentioned in Forbes, Pando Daily, Yahoo Finance, Business Insider and numerous media outlets since launching in BETA.
Thrive15.com offers points instead of grades and gives its users a chance to win a business boost package of up to $30,000 every six months to the Thriver with the most points.