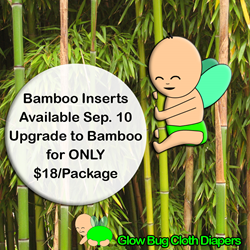 Barrie, ON (PRWEB) September 05, 2014
Since Glow Bug Cloth Diapers started as a company back in 2011, their cloth diapers have been made exclusively with microfibre inserts. Over the years, one of the biggest requests the company heard over and over again from customers to have the choice of bamboo inserts or microfibre inserts. Bamboo inserts are known for their superior absorption as well as natural anti-bacterial qualities. The best cloth diapers are typically made with bamboo inserts and Glow Bug has finally decided to take the plunge into the bamboo market.
The regular price for bamboo insert packages will be $175 but for the pre-sale Glow Bug is offering the bamboo insert packages for $157 which is the same price as the micofibre packages.
Glow Bug Cloth Diapers is based out of Barrie, Ontario and has been in business since early 2011 manufacturing and selling cloth diapers. Glow Bug Cloth Diapers is best known for offering cloth diapers that are high-quality, easy to use, fashionable and affordable. Glow Bug Cloth Diapers fit babies from newborn to potty training so you never have to buy diapers again, making them high-quality yet cheap cloth diapers.