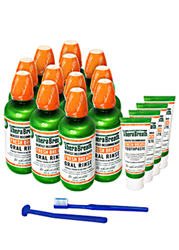 From Sept 8th to Sept 29, 2014, TheraBreath will offer nine Bonus Paks for customers at savings up to 66 percent off regular prices.
(PRWEB) September 08, 2014
TheraBreath, a leader in bad breath and halitosis treatment solutions, announces its last Bonus Pak sale. For more than 12 years, the TheraBreath Bonus Pak Sale has saved customers hundreds of dollars on their favorite TheraBreath formulas. However, in recent years, many wholesalers have taken advantage of the sale, stocking up on products at the lowest per unit price. These wholesalers then resell the products at a higher price to unsuspecting consumers. Since this was never the intent of TheraBreath, the company has decided to end the Bonus Pak sale indefinitely. However, customers will still be able to enjoy other sales throughout the year.
From Sept 8th to Sept 29, 2014, TheraBreath will offer nine Bonus Paks for customers at savings up to 66 percent off regular prices. The Bonus Paks include the following: Bonus Pak A which comes with regular oral rinse; Bonus Pak G which includes AktivOxigen serum and Plus toothpaste ; Bonus Pak E which includes periotherapy oral rinse and toothpaste; and Bonus Pak C which includes extra strength oral rinse and toothpaste.
Since TheraBreath wants to make this the best Bonus Pak sale ever, the company is also giving customers a free Bonus Pak. Customers can choose a free pre-packaged Bonus Pak worth $201, or build their own free Pak of up to $125 in products. TheraBreath's tongue cleaner, mouthwash lozenges, whitening toothpaste, throat spray, icy mint mouth wash rinse, oral spray for pets and travel-sized products are among the select items offered. The free Bonus Pak is available to all customers who purchase a Bonus Pak; there are no limits in the number of Bonus Paks that customers can purchase.
As one of the most trusted premium oral care systems, customers can be confident in the effectiveness of TheraBreath products. TheraBreath customers have called them "the BEST oral care products available", "amazing," and the "best products on the market." Each product comes with TheraBreath's 100 percent, 30-day money back guarantee. Furthermore, customers receive free shipping within the U.S., Mexico and Canada during the Bonus Pak sale.
To purchase a Bonus Pak, customers can send in a mail order form, contact the company by phone; or visit:
http://www.therabreath.com/docs/bpaksep14.asp
About TheraBreath
Since 1994, TheraBreath has offered premium quality products to remove bad breath and improve oral health. The company's founder and owner, Dr. Harold Katz, continually works to refine his original formula, which aims at destroying bad breath by attacking germs rather than masking the problem. Today, TheraBreath offers a wide range of products including gum and mints, mouthwash, teeth whitening, sprays and drops, toothpaste and oral care probiotics. For more information about the company, please visit http://www.therabreath.com.