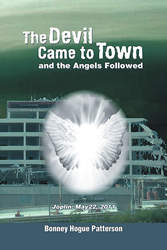 Could it be that when this deadly storm visited Joplin, the angels came too?
(PRWEB) September 08, 2014
"The Devil Came to Town and the Angels Followed" tells the story of when an EF 5 tornado struck Joplin, Missouri, devastating the city. Survivors of the giant storm tell of running for their lives, children being torn from their mothers' arms, and being swept into the funnel on that fateful day, May 22, 2011.
In the wreckage of one nearby hospital, doctors and nurses worked by flashlight to save lives, and first responders showed extraordinary courage during this disaster. Even so, 158 people died in Joplin that day. But this history-making storm has another story that has not been told, until now. Young survivors of the monster tornado, none over the age of 12, began telling their parents and teachers about bright winged beings – or "butterfly people" – who shielded them at the height of the storm as the massive tornado passed over them.
The townspeople in Joplin say: "The Devil Came to Town and the Angels Followed". Could it be that when this deadly storm visited Joplin, the angels came too?
Watch the video at: https://www.youtube.com/watch?v=WIGD0wtC-Gg
About the Author:
Bonney Hogue Patterson calls herself "an accidental author." Hospitalized from a concussion due to a slip on a patch of ice, she wrote her first book, Hunted in the Heartland: A Memoir of Murder. She then returned to substitute teaching until the devastating tornado of May 22, 2011 struck in Joplin. "Research indicated that not only were there abundant stories of struggle and heroics, and ministering earthly angels, but, perhaps, also more heavenly ones were in Joplin that day. I hope you find the characters in the book, titled after a popular Joplin saying, to be as warm and inspiring as I have."
Book Details
Genre: Body, Mind & Spirit / Angels & Spirit Guides
Author: Bonney Hogue Patterson
Format: Paperback, 188 pages Pub date: August 2014
"THE DEVIL CAME TO TOWN AND THE ANGELS FOLLOWED" (ISBN: 978-1-63135-016-0) is now available for $13.99 and can be ordered through the publisher's website:
http://sbprabooks.com/BonneyHoguePatterson, Amazon, or the website of Barnes and Noble.
WHOLESALERS: This book is distributed by Ingram Books and other wholesale distributors. Contact your representative with the ISBN for purchase. Wholesale purchase for retailers, universities, libraries, and other organizations is also available through the publisher; please email bookorder(at)sbpra(dot)net.
Strategic Book Publishing and Rights Co, LLC