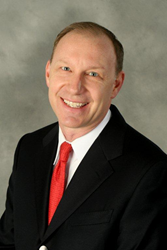 Falls Church, VA (PRWEB) September 05, 2014
September is Self-Improvement Month, and Dr. William V. Dougherty, III encourages patients to learn how they can fill the gaps left from missing teeth in Falls Church, VA, with an easier than ever solution through implant supported dentures. Dr. Dougherty offers what is known as the All-on-4™ solution which essentially places a fixed or removable denture on top of four dental implants to deliver exceptional stability and functionality without the cost or time associated with placing implants where all teeth have been lost.
Before the All-on-4™ solution was developed, patients who wanted to replace missing teeth in Falls Church, VA, but did not have sufficient jaw bone density could not have accepted traditional dental implants. Standard implants require a certain amount of healthy bone to support each post. A patient may have sufficient bone levels in part of the jaw but not evenly throughout to support implants in all locations of missing teeth. Implants are considered the ideal replacement for natural teeth, as the titanium posts offer stimulation to the jaw bone that is akin to that of natural teeth roots.
Implant-supported dentures places posts in the areas where enough bone is located and then sets a denture on top of those. This results in a best of both worlds approach because the implants stimulate the bone and offer better stability than dentures alone while the use of the denture on top makes a full mouth solution possible and also keeps costs more affordable for patients. Another benefit of All-on-4™ implants is the ability to avoid bone grafts, which can be required prior to some implant procedures. Patients can receive a full set of implant supported dentures in less time, with less discomfort, and for less cost than other options, making this a highly popular choice for people suffering from missing teeth in Falls Church, VA.
Patients are encouraged to visit Dr. William V. Dougherty, III this September and make this a personal Self-Improvement Month. Dr. Dougherty and his staff are always available to answer questions and help patients make the right choices for dental health.
About The Doctor
William V. Dougherty, III, DDS is a general dentist offering patients personalized dental care in Falls Church, VA. He is part of one percent of dental professionals providing the LANAP® FDA cleared laser procedure for gum disease and periodontal treatment. To learn more about William V. Dougherty, III, DDS and his dental services, visit his website at http://www.doughertylaserdentistry.com and call (703) 584-7554.