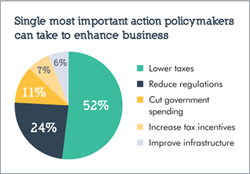 "Connecticut's workforce is aging, with 53% of our respondents reporting that 20% or more of their workforce is 55 or above..."Joseph A. Kask, CPA | Office Managing Partner, BlumShapiro
Rocky Hill, Connecticut (PRWEB) September 08, 2014
BlumShapiro and the Connecticut Business and Industry Association (CBIA) today released their 13th annual survey of Connecticut's businesses. The 2014 Survey of Connecticut Businesses shows optimism that Connecticut's business landscape continues to improve, though also indicates concerns about the economy and the ability to create jobs in Connecticut, as well as signs that the state's workforce continues to get older.
Officials from BlumShapiro and CBIA agreed that they are cautiously optimistic about the results of this year's survey, noting that three times as many businesses say they are growing rather than contracting, innovation and investment in technology is strong and three-quarters of manufacturers surveyed say they are exporting.
Among the challenges outlined in this year's survey are concerns for the state and nation's economy, state and federal tax burdens and regulatory costs. What's more, one in four respondents are facing a wave of retirements over the next decade, with at least 40% of their workforce aged 55 or older. The survey shows slightly greater forecasted demand for mid-level employees than entry level or line workers.
"This survey spotlights the state's need to continue to invest in training and development programs while creating an environment that retains and attracts new talent to our state. This is the best way to find qualified workers that Connecticut clearly needs," Joseph Kask, Office Managing Partner of BlumShapiro's West Hartford office, said. "Connecticut's workforce is aging, with 53% of our respondents reporting that 20% or more of their workforce is 55 or above. There is much to be optimistic about in this survey, but the aging workforce is certainly a challenge we continue to face."
"Economic competitiveness is not just a business issue but one that touches every community, every neighborhood and every family in Connecticut," John Rathgeber, CBIA's President and CEO, said. "A competitive economic climate means more jobs, more opportunity and a brighter future for everyone in the state. We have tremendous assets and must continue to leverage them. At the same time, it's critical we address those areas hampering economic growth, particularly the high cost of doing business, taxes, state budget deficits and long-term debt, red tape and our aging transportation structure."
Highlights of this year's survey include:

35% of businesses surveyed indicate they are growing; 11% indicate they are contracting.
46% of businesses surveyed introduced new products or services in the past 12 months; - 47% of them plan on introducing new products or services in the next 12 months.
52% of businesses surveyed say the most important step policymakers can take to enhance business in Connecticut is lowering taxes; 24% say it is reducing regulations, and - 11% say it is cutting government regulations.
When asked about how Connecticut should address the shortage of skilled workers, 32% of businesses surveyed say the state should reduce the cost of living, 28% say the state should support trade schools, 20% say the state should support education overall, and 20% say there should be incentive for training programs.
27% of businesses surveyed say technology is the greatest single investment, 23% say it is employee training, and 23% say it is property and facilities.
BlumShapiro is the largest regional accounting, tax and business consulting firm based in New England, with offices in Connecticut, Massachusetts and Rhode Island. The firm, with nearly 400 professionals and staff, offers a diversity of services which includes auditing, accounting, tax and business advisory services. In addition, BlumShapiro provides a variety of specialized consulting services such as succession and estate planning, business technology services, employee benefit plan audits, litigation support and valuation, and financial staffing. The firm serves a wide range of privately held companies, government and non-profit organizations and provides non-audit services for publicly traded companies.