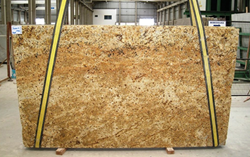 With over 30,000 pictures of slabs available, we believe this is the largest selection of real time slab inventory in the world.
(PRWEB) September 09, 2014
M S International, Inc. (MSI) is pleased to announce to fabricators, retailers, designers, and consumers the ability to quickly preview slabs of granite, marble, quartz, onyx, limestone, soap stone, and others located at the nearest MSI distributions center. With 17 MSI distribution centers strategically located throughout the United States, customers can quickly preview the actual slabs available for their project.
Steps To Preview Slabs:
To preview slabs available in your local MSI distribution center, navigate to http://www.msistone.com/countertops. Select from one of the twelve natural stone product categories and then the color category. From this screen, select the "Preview Actual Slabs Available In Your Area" button in the top right corner, just above the image of the slab. Select the MSI location nearest to you. View the actual slabs available in your area.
MSI sources the finest natural stone slabs available today, from around the globe. Marble, granite, soapstone, limestone, travertine, quartz, Venetian marble, onyx, semi-precious, quartzite, and a variety of pre-fabricated slabs are available for preview. Once a customer selects the bundle they are most interested in, information including the number of slabs, and the square feet available is indicated. It is recommended that customers write down the Item Description, Item ID, Bundle, and Location of the slab they desire. When visiting the MSI location, they can preview their choices, or explore other options.
Rupesh Shah, President of MSI states "The slab selection process for a consumer can be overwhelming with over 400 colors to choose from. By allowing consumers to view on-line the actual slabs that are available in their area, we believe we can provide more choice and variety to the consumer and allow them to start the purchasing process from their desktop at home or with their mobile device and finalize the process during their visit to one of our showrooms. With over 30,000 pictures of slabs available, we believe this is the largest selection of real time slab inventory in the world."
About M S International, Inc. Founded in 1975, MSI is a leading nationwide distributor of flooring, countertop, wall tile and hardscaping products. Headquartered in Orange, California, MSI also maintains distribution centers across the United States and Canada. MSIs product line includes natural stone products imported from over 36 countries on six continents. In addition, MSI carries an extensive offering of porcelain, ceramic, glass and quartz products. The company maintains an inventory of over 50 million square feet. For more information on MSI, visit msistone.com.