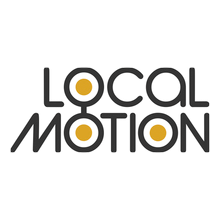 An organization with a fleet of 100 vehicles can get up to 30 percent more mobility out of their existing vehicles, translating to an average of $300K annually.
San Mateo, CA (PRWEB) September 08, 2014
Local Motion (http://www.getlocalmotion.com) today announced some key milestones since receiving a $6 million strategic investment from Andreessen Horowitz. The company's growth is fueled by adoption from Fortune 500 companies including Verizon and Google, as well as key partnerships with Nissan and government solutions provider Carahsoft. Transportation takes up a significant percentage of an operational budget; organizations seeking to pool their vehicles together in order to better utilize their fleets while lowering operational costs turn to Local Motion's combination of hardware and software technology.
"With our current global customer base, we will have the potential to scale our deployment to nearly 90,000 vehicles," says John Stanfield, CEO and Co-founder of Local Motion. "Many of our clients were already sharing some portion of their fleet. On average, around 10 percent of vehicles were shared, but scaling up had been a challenge for them until they saw Local Motion's technology in practice. The benefits are indisputable. An organization with a fleet of 100 vehicles can get up to 30 percent more mobility out of their existing vehicles, translating to an average of $300K annually. And if that isn't convincing enough, in a fleet of this size, the sharing of automobiles alone can save 130 tons of C02 - even more if electric vehicles are introduced, which is something Local Motion facilitates."
Over the past year, Local Motion has bulked up its U.S. customer roster to include Verizon, the County of Nevada and iPhone repair service iCracked. In Europe, through its team in France, Local Motion forged new relationships with France-based EDF, the world's largest electricity producer; Thriev, London's zero emission electric vehicle fleet; car rental service Drivy and French multinational company Air Liquide. The company has also begun working with 1-800Courier, who is leveraging the company's keyless technology to help manage and expand the fleet of Google Shopping Express delivery vehicles.
In this "instant economy," consumer demand for same-day delivery shows no signs of slowing down. For 1-800Courier, companies are relying on them to deliver goods to a shopper within hours of an incoming order. "Local Motion allows 1-800Courier to easily schedule drivers, getting them on the road quickly without worrying about locating specific keys or vehicles," said Mark McCurry, President of 1-800Courier. "The intelligence and guidance provided by Local Motion has empowered us to make decisions that increased our utilization by 20% and helped scale our fleet to 7x its original size - ultimately growing our bottom line."
Local Motion delivers real-time insight into fleet utilization and vehicle diagnostics, including battery charge status, which makes it easier to introduce electric vehicles into fleets. This is a top priority for many fleet managers, especially those working for government organizations that are set to comply with Executive order 13514. The order stipulates that any agency operating a fleet of 20 motor vehicles or more must reduce its consumption of petroleum products by a minimum of 2 percent annually through the end of fiscal year 2020.
To help facilitate distribution to the Government channel, Local Motion is working with Carahsoft Technology Corp., a government IT solutions provider. Also on the partnership front, the company has begun a pilot project with Nissan for their eNV200 demonstration program in the U.S. Nissan's eNV200 has Local Motion's technology installed and is making its way to different organizations around the country to showcase both the sharing and utility possibilities of the zero-emissions small van.
The heart of Local Motion's technology is a wallet-sized hardware component that plugs into the vehicle's data port and is mounted on the dashboard. Using M2M technology, the device 'communicates' the vehicle's status and reminders to drivers and fleet managers. Employees can either reserve a vehicle in advance through the web platform or mobile app, or simply walk up to any authorized vehicle that is available, as indicated by a color-coded light system (green= available, blue= reserved, red= blocked). The vehicle can be unlocked using their employee RFID badge or smart phone.
"Local Motion harnesses the fact that employees are primed for car sharing—they already share conference rooms, supplies, printers, break rooms and more," says Clement Gires, Co-founder of Local Motion. "We recognize that until sharing a vehicle meets or exceeds the experience of owning their own, they won't do it. With this in mind, we put forth a 'user-first' philosophy and built Local Motion to be frictionless for employees. No keys or complicated advance reservations are required. Our ease of use changes the perception of 'ownership' within fleets, fueling adoption within the organization."
Use of Local Motion's technology enables fleet managers to identify how vehicles are being used, anticipate maintenance requirements and determine which types of vehicles are needed most. Onboarding is quick and painless for both fleet managers and drivers, generating immediate and actionable feedback and increased sharing at the outset. Local Motion introduces efficiencies that enable companies to work smarter, faster and more cost effectively in relation to their employees' mobility.
Media interested in speaking to the company can reach out to Kimberly Angell of Wish Public Relations at (415) 471-7272 or press(at)getlocalmotion(dot)com. Fleet managers interested in a personalized demo can email connect(at)getlocalmotion(dot)com or call 1-855-58-FLEET (1-855-583-5338).
About Local Motion
Local Motion brings the sharing economy to the enterprise, making any vehicle a shared vehicle. With our universal keyless technology, employees are given easier access to mobility, empowering organizations to do greater things with their existing fleet while lowering operational costs. Founded in 2010, the company is run by a team with expertise in alternative energy, vehicle sharing, and electric vehicle technologies with a mission to create the largest network of shared vehicles on the planet. Local Motion is backed by notable VCs and investors including Andreessen Horowitz, Jerry Yang, Tim Draper and Tony Hsieh, and boasts former Microsoft Windows president Steven Sinofsky as part of the board. http://www.getlocalmotion.com