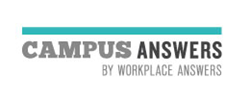 "We chose our student training from Campus Answers because they demonstrate a keen understanding of the training that both engages and informs our students," said Jocelind Gant, Ph.D., Clarion University
Austin, TX (PRWEB) September 08, 2014
Workplace Answers, the leader in compliance solutions, announced its Campus Answers division and the resource CampusAnswers.com The division serves colleges and universities exclusively. The new website, CampusAnswers.com, provides resources for student leaders and administrators and offers awareness training and compliance solutions designed for students, faculty and staff, campus security, campus investigators, and administrators.
The company's award-winning compliance solutions address areas from sexual violence prevention and sexual harassment to ethics and safety. More than 500 colleges and universities rely on these solutions to take a proactive approach to campus safety. Campus Answers addresses the needs of both students and administrators, delivering timely solutions for incident reporting, campus climate surveys, and case management.
"We chose our student training from Campus Answers because they demonstrate a keen understanding of the training that both engages and informs our students," said Jocelind Gant, Ph.D. Assistant to the President for Social Equity And Associate V.P. for International Programs, Clarion University of PA. "I particularly like the way their content is crafted so to not make light of a serious issue like sexual assault."
"Campus Answers combines the highly regarded compliance training from Workplace Answers with a range of new solutions that comprehensively address the recent VAWA/ SAVE Act legislation," said Girish Pashilkar, CEO of Workplace Answers. "We are honored to work with both student leaders and administrators nationwide on campus compliance and safety."
The newest campus training solution, Student Empower, covers a full range of topics related to the VAWA/Clery Act and Title IX requirements, including:

Sexual Violence
Bystander Intervention
"Men as Allies"
Concepts of Consent, No-Consent, & Continuous Consent
Gender Sensitivity
Use of Drugs and Alcohol
The solution methodology is based on interactive skill-building exercises throughout the courseware, including: graphic novellas, video guides, storylines, scenario-based learning, question/answer interactions, sorting activities, serious games and real-world situations. The courseware is continually updated to reflect changes in both federal and state laws.
About Campus Answers by Workplace Answers
Campus Answers is the higher education division of Workplace Answers, the leading provider of compliance solutions. For more than 20 years, we have provided compliance solutions to over 500 colleges and universities nationwide, including UNC Chapel Hill, University of Alabama, and the University System of New Hampshire. Built on our award-winning training content, services, and software, Campus Answers delivers solutions for incident reporting, campus climate surveys, and case management tools as well as customizable training solutions for the entire organization. Learn more about Campus Answers at http://www.CampusAnswers.com or call 1-866-861-4410.