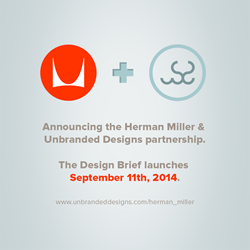 At Herman Miller we believe that there are talented designers all over the world capable of delivering inspiring solutions to challenging problems.
Chicago (PRWEB) September 08, 2014
Herman Miller, a global leader in design, is partnering with Unbranded Designs to discover new design talent and identify commercially viable designs.
"At Herman Miller we believe that there are talented designers all over the world capable of delivering inspiring solutions to challenging problems. With Unbranded Designs' platform, we have an exciting and new way to connect with this talent and share our core values around design," said Gary Smith, Vice President, Product Design and Exploration at Herman Miller.
Using Unbranded Designs' online platform and process, Herman Miller will issue an open design challenge to Unbranded's global design community in mid-September. Submissions will go through a review process including open feedback from the broader design community as well as a juried panel of design experts. Designers will have an opportunity to make revisions based on the feedback, and then the panel will select the winner. Development at Herman Miller will begin shortly thereafter.
"What sets this partnership apart from typical design competitions is that Herman Miller is focused on finding the next great commercially viable product design. This is not a 'fun competition' for ideas; it is a process and opportunity that focuses on the commercial potential of the best ideas, which in turn leads to fantastic opportunities for designers and innovative products for Herman Miller," said Sameer Dohadwala, co-founder, Unbranded Designs.
Winning designers will receive cash, royalties, and their name publicly displayed in marketing and collateral, in association with any commercialized products based on their designs. Non-winning finalists will receive prizes, recognition throughout the process, and feedback from a world-class juried panel of design experts, to ensure that they still find value in the opportunity. Designers retain 100 percent ownership of their designs if Herman Miller chooses not to move forward with formal development of their work.
The challenge will be launched in mid-September on the Unbranded Designs website. At that time, further details will be released on the problem statement, legal terms and conditions, and other pertinent information. In the interim, please visit http://www.unbrandeddesigns.com/herman_miller to sign up and be notified of launch details.
About Herman Miller, Inc.
Herman Miller's inspiring designs, inventive technologies and strategic services help people do great things and organizations to perform at their best. The company's award-winning products and services generated approximately $1.9 billion in revenue in fiscal 2014. A past recipient of the Smithsonian Institution's Cooper-Hewitt National Design Award, Herman Miller designs can be found in the permanent collections of museums worldwide. Innovative business practices and a commitment to social responsibility have also helped establish Herman Miller as a recognized global leader. In 2013, Herman Miller again received the Human Rights Campaign Foundation's top rating in its annual Corporate Equality Index and was named among the 50 Best U.S. Manufacturers by Industry Week. Herman Miller is included in the Dow Jones Sustainability World Index and trades on the NASDAQ Global Select Market under the symbol MLHR.
About Unbranded Designs
Based in Chicago, Unbranded Designs is a company dedicated to engaging the global design community to create innovative, purposeful products that empower people where they work and live. Through Unbranded Designs' proprietary open-source platform, designers everywhere have the opportunity to respond to design challenges from leading product manufacturers and be a part of a global design community whose mission is to discover, develop and deliver the most innovative furniture products.