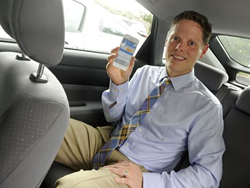 This is an accident that can happen to anyone.
Nashville, Tenn. (PRWEB) September 06, 2014
Cody King was haunted by the realization one morning that he could have left his toddler in the car in the midst of juggling schedule changes, family life, and work demands. A year and a half later, King has released a smartphone app that's aimed at ending preventable heat exhaustion or hyperthermia in children left in cars—an accident that can happen to anyone.
Remember the Kids is an automatic app that runs in the background of your smartphone. There is no need to turn the app on or off to operate it. Simply download it and go. Remember the Kids uses the accelerometer in the smartphone's GPS to determine when the parent is traveling faster than 20 mph. When the app senses that the phone has not traveled above the speed threshold for three minutes, it sends an alert to the parent. The alert asks, "Did you remember the kids?" The smartphone user has three options to tap: "Yes," "No kids," or "Snooze."
King is an IT professional in Brentwood, Tenn., and the father of three girls under the age of four-and-a-half. "I realized that this is an accident that can happen to anyone, and I wasn't above it," King said. "It's preventable. No one should have to go through such a tragedy."
Children can suffer from heatstroke in cars even with temperatures as low as 57 degrees. Many don't realize that a child's body heat rises three to five times faster than an adult's does. In less than 10 minutes, the interior of a car can reach temperatures dangerous enough for a child's organs to start shutting down.
Remember the Kids is affordable and accessible. It is currently available for download in the iTunes App Store for $1.99, and coming soon for Android.
About Remember the Kids:
Remember the Kids is an automatic no-hassle reminder app for your phone to help you remember your child in the car seat and prevent automobile heat exhaustion or hyperthermia. It was made for parents, by parents. For more information, visit http://www.rememberthekids.com.
###