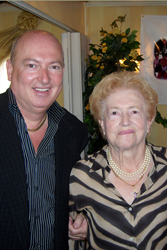 (PRWEB) September 05, 2014
Just days before what would have been her 90th birthday, Caterina Lunardi, the mother of celebrated restaurateur/humanitarian Bruno Serato and namesake of the nonprofit he started to feed and house OC's "motel kids," has succumbed to Parkinson's Disease at her home in Italy. Caterina's Club was started in 2005 after a visit by Serato and Lunardi to a local Boys and Girls Club. There, she saw a 7-year-old boy eating a bag of potato chips and when she learned that the snack was all he had for dinner, she instructed her son to head back to the restaurant and feed the children pasta. He fed 100 children that night and each evening since. The program has expanded to now feed 5,000 children each week from 10 different sites in 5 Orange County cities.
Called "motel" children because their poor, working class parents are relegated to living in cheap, crime-filled motels, many of them were going to bed hungry before that night in 2005. The program was at risk of extinction with the collapse of the economy, which hit the fine dining sector (and Serato's Anaheim White House restaurant) with its wrath. Serato mortgaged his home in order to keep the program going and managed to survive the worst of the recession, but the issue of hunger in OC -- the backyard of great wealth --still exists. He expanded the nonprofit's mission to find permanent housing for these families. While many of them are able to pay monthly rent for their own apartments, very few can afford the first, last and security deposit required. Caterina's Club pays those costs as well as helps them buy basic necessities for their homes.
In lieu of flowers, donations to Caterina's Club are encouraged and may be made to Caterina's Club, 887 S. Anaheim Blvd. Anaheim, CA 92805 or by visiting http://www.TheCaterinasClub.org.