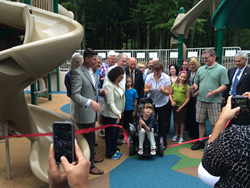 Lydia will face many challenges in her life...Playing on a playground should not be one of those challenges.
Tannersville, PA (PRWEB) September 09, 2014
"Watch what I can do, mommy!" came the gleeful shout from the top of the twisty, spiral slide at the new Crossing Abilities Playground in Tannersville, PA. With a vision to create a unique playground on roughly 4,000 square feet of space that would offer play opportunities for energetic and curious children with physical limitations, vision or hearing impairment, many generous organizations and foundations along with the Pocono Alliance in Monroe County helped fund the successful outcome of this half million-dollar playground project.
More than 100 people took part in the grand opening of the new playground on August 22, including two State Legislators, Representatives Mario Scavello and Rosemary Brown. As Crossing Abilities is the region's first all-inclusive playground to provide full accessibility to children with special needs, Mr. Scavello and Ms. Brown praised the hard work and dedication of the stakeholders who helped plan, design, and fund the successful play space.
Michael Tukeva of Pocono Alliance emceed the festivities, and was gracious in his acknowledgement of all the funding partners. He also made special mention of [Play & Park Structures, who designed the play equipment, and their generous matching funds grant that helped make the playground project more achievable.
In addition to the mobility device-friendly ramps, sensory motion play, music and game panels, as well as a unique kid-powered trolley system that transports children across a 20-foot track to a covered landing station, the equipment also features unique Braille signage for vision-impaired children. Four-inch thick, themed rubberized safety surfacing, a sloped outer pathway, and extra wide boarding areas allows children of all ages and abilities to play alongside each other.
Lydia Peters, a 6-year old with spinal muscular atrophy, was on hand to cut the ribbon, opening the playground to all attendees. Laurie Peters, Lydia's mother, shared her satisfaction with the playground outcome by offering, "[Lydia] will face many challenges in her life, like every child, regardless of their abilities. Playing on a playground should not be one of those challenges." The objective of the final universal design was to not make children with disabilities feel different, but to feel included. "Today, [Lydia] doesn't have to be left out," Laurie told the assembled crowd. "Today, her confidence and self-esteem is flourishing, because she's not different here".
Larry Apel's daughter, Giovanna, who has Down syndrome and autism, also found the playground to be extremely accessible. "This park is a great release for us," said Larry. His daughter is able to play more safely at The Crossing Abilities Playground and it is something they can look forward to without Larry having to "redirect her demand."
Conclusion of the ribbon cutting ceremony resulted in children exuberantly fanning out to quickly discover the different play components waiting to be explored.
About Play & Park Structures
Since 1976, Play & Park Structures' mission has centered on developing products, programs, and services that enhance classroom learning, create environmental awareness, promote physical activity, play for all abilities, and building community. [playandpark.com
About Pocono Alliance
Pocono Alliance provides resources to the community by building relationships and creating solutions and has played a critical role since 2002 in comprehensive health and human service planning and management activities, program development and service delivery for low to moderate-income families. Poconoalliance.org