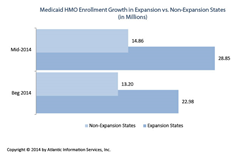 (PRWEB) September 11, 2014
After several years in development, the expansion of the Medicaid program is now showing real results. Atlantic Information Services, Inc. (AIS) — the industry-leading publisher of Medicare Advantage News, AIS's Medicare and Medicaid Market Data: 2014 and the authoritative AIS's Directory of Health Plans — has analyzed the latest available data on Medicaid expansion efforts in Medicaid Expansion: Mid-Year 2014 Results, a new report that provides a thorough picture of how the Medicaid market is shaping up right now.
With data comparing Medicaid enrollment stats from the June/July timeframe to the beginning of 2014, analysis in Medicaid Expansion: Mid-Year 2014 Results has found:

Enrollment in all Medicaid programs, including SCHIP and other related programs, is up nearly 11% nationally during the first half of 2014.
21 managed care companies have entered the Medicaid market for the first time in states with Medicaid expansion programs.
In total, existing plans that increased enrollment in Medicaid expansion states have gained more than 3.9 million members, and these new members represent 5% of the total managed Medicaid membership in these states.
Based on a sample group, premium revenue is up by an average of 10.2%.
Through clearly presented charts, tables and narrative summaries, Medicaid Expansion: Mid-Year 2014 Results makes it easy for users to:
Compare changes in Medicaid enrollment between participating states and non-participating states to help quantify outcomes.
Analyze the expanding — or shrinking — market share by state, by company or by county and see how new Medicaid plans are faring.
Learn which companies have earned the most market share in each state and how they have balanced new revenue opportunities with increased operational spending.
Determine the percentage of a participating state's population that is enrolled in Medicaid, and how that number has changed over the first half of 2014.
Understand which counties in each state are experiencing the greatest enrollment increases.
Identify the top issues for states that aren't participating in Medicaid expansion, and the potential cost savings they are missing.
Assess the financial impact for companies that made investments or acquisitions to enter certain state Medicaid markets in anticipation of expansion.
Understand the extent to which Medicaid expansion is actually resulting in greater enrollment and premium revenue for plans operating in those states.
The research and data tracking in Medicaid Expansion: Mid-Year 2014 Results is conducted by AIS's in-house Directory & Databases division, which works exclusively for AIS to collect the latest available Medicaid enrollment per company, state and county. Sources are state Medicaid agencies and Medicaid managed care organizations.
For more information, including a full table of contents, visit http://aishealth.com/marketplace/medicaid-expansion-results.
About Atlantic Information Services
Atlantic Information Services, Inc. (AIS) is a publishing and information company that has been serving the health care industry for more than 25 years. It develops highly targeted news, data and strategic information for managers in hospitals, health plans, medical group practices, pharmaceutical companies and other health care organizations. AIS products include print and electronic newsletters, websites, looseleafs, books, strategic reports, databases, webinars and conferences. Learn more at http://AISHealth.com.