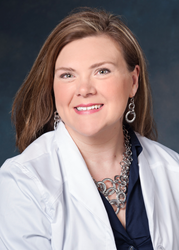 Overland Park, Kansas (PRWEB) September 08, 2014
Saint Luke's South Primary Care welcomes CasSandra McKarnin, D.O., and her patients. The family medicine physician has cared for patients in Southern Johnson County for more than a decade, most recently in Olathe.
"We are excited to welcome Dr. McKarnin to our staff," said Annamarie Holmes, Director of Physician Practice Management for Saint Luke's Medical Group. "Saint Luke's South Primary Care is one of our busiest practices, and Dr. McKarnin will help us serve a growing number of patients, while providing attentive one-on-one care."
Dr. McKarnin earned her Doctor of Osteopathic Medicine degree from Kansas City University of Medicine & Biosciences and completed her family medicine residency at KU Med. Her interests include preventive care, women's health, and pediatrics.
Dr. McKarnin began seeing patients on Sept. 3. To schedule an appointment, call 913-317-7990.
About Saint Luke's Medical Group
Saint Luke's Medical Group (SLMG) employs more than 75 physicians in 15 medical offices located across the Kansas City Metro area and surrounding communities. SLMG physicians' specialties include family medicine, internal medicine, internal medicine-pediatrics, endocrinology, general surgery, obstetrics and gynecology, and urology.
About Saint Luke's South Hospital
Saint Luke's South Hospital is part of Saint Luke's Health System, which consists of 10 area hospitals and many primary care practices, and provides a range of inpatient, outpatient, and home care services. Founded as a faith-based, not-for-profit organization, our mission includes a commitment to the highest levels of excellence in health care and the advancement of medical research and education. The health system is an aligned organization in which the physicians and hospitals assume responsibility for enhancing the physical, mental, and spiritual health of people in the metropolitan Kansas City area and the surrounding region.
###