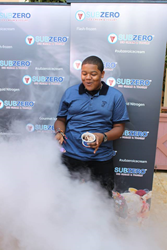 "The Benihanas of ice cream!" - Soulja Boy
Los Angeles, California (PRWEB) September 06, 2014
Sub Zero is proud to announce that on Monday in Los Angeles California, they will be serving their better than the best ice cream to all of the stars!
Last year Sub Zero also attended. Some of the comments from the celebs attending include, but most certainly aren't limited to;
"What up, BAM! Took me about two seconds to heaven, I love you guys!" - Dot Jones
"The ice cream is delicious, man. Sub Zero Ice Cream, you know what's up." - Kyle Massey
"The Benihanas of ice cream!" - Soulja Boy
"Divine!" - Zach Selwyn and Wendy Thompson
Hoping to be an even bigger hit than last year, founder and CEO Jerry Hancock says, "We are very excited to go! We love seeing the excitement on everyone's faces when we make their ice cream right in front of them."
The tournament will take place on September the 8th in the Wilshire Country Club, Los Angeles California.
If you have any questions or comments about Sub Zero Ice Cream, feel free to visit our website at subzeroicecream.com.