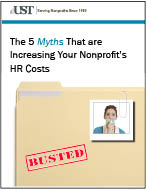 In this short white paper, UST uncovers the five myths that many nonprofits don't realize are increasing their human resource costs
Santa Barbara, CA (PRWEB) September 09, 2014
The Unemployment Services Trust (UST) unmasks some of the most commonly held *wrong* beliefs about employee turnover and unemployment claims in its latest e-Book, "The 5 Myths That Are Increasing Your Nonprofit's HR Costs."
"All too often nonprofits take a back-seat position on unemployment claims," explains the e-Book, "allowing former employees to collect benefits even when they really aren't qualified by law. While this may seem benevolent, it is hurting the nonprofit who then later pays higher unemployment costs as a result—which ultimately takes money away from their mission and the causes they serve."
In fact, in an analysis of more than 200 nonprofits last year, UST found $3,532,485.26 in potential state unemployment tax savings opportunities.
And in a 2013 study by UST, 667 of the nonprofit employers reviewed did not respond to the state's request for information about an unemployment claim. This represented $5,019,875 of unemployment liability exposure for these organizations, not including the potential penalties now imposed by states for non-responsiveness on unemployment claims.
In this short white paper, UST uncovers the five myths that many nonprofits don't realize are increasing their human resource costs, and steps that nonprofit executives and HR managers can take to debunk them at their organizations.
The e-Book, available for free download, also helps answer:

Which HR myths might be hurting nonprofit organizations
Whether an organization might be overpaying for unemployment claims
How nonprofits can proactively reduce HR costs
You can download your complimentary copy today at: http://ww2.ChooseUST.org/lp/pr/5myths.html.
About UST: The Unemployment Services Trust is dedicated to educating 501(c)(3)s about controlling HR and unemployment costs and helping them exercise their federal right to reimburse for unemployment insurance. UST helps nonprofits manage unemployment claims to successfully save thousands of dollars annually. Learn more at http://www.ChooseUST.org.