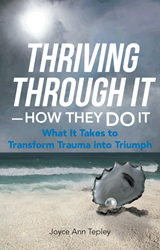 Along with an external support system, the most prevalent quality each interviewee said they possessed was self-determination
DALLAS (PRWEB) September 08, 2014
Do people who thrive through the most difficult times in their lives have something in common?
"Thriving Through It – How They Do It" compiles interviews of 20 individuals from all walks of life and their journeys overcoming obstacles ranging from spinal injuries to post-polio syndrome. The book not only explores the stories, but also personality traits, important relationships and life philosophies of the individuals featured.
Author Joyce Ann Tepley, the founder of the Thriving Living Community, is now retired from a career that spanned four decades as a clinical social worker. Her years spent counseling people with a variety of emotional and relationship problems, paired with her own personal experiences, helped her identify the consistent qualities present among those working to overcome adversity.
"People who thrive have particular characteristics, beliefs and support," Tepley said. "Along with an external support system, the most prevalent quality each interviewee said they possessed was self-determination."
Based on Tepley's research during a fellowship program sponsored by the American Hospital Association, "Thriving Through It – How They Do It" provides an in-depth look at struggle in order to inspire and motivate others.
"No one escapes from adversity," Tepley said. "We are all wounded in some way. It's how we deal with physical and emotional health issues that make us wither or flourish."
For more information, visit http://www.thriverlivingcommunity.com.
"Thriving Through It - How They Do It"
By: Joyce Ann Tepley
ISBN: 9781491718186
Available in softcover, hardcover and ebook
Available on Amazon, Barnes & Noble and iUniverse
About the author
Joyce Ann Tepley, retired from a forty-year career as a clinical social worker, has dedicated the rest of her life to honoring those who thrive through adversity by telling their stories. She is a member of the National Association of Social Workers, the Texas Coalition of Individuals With Disabilities and the International Post-Polio Health Association. Tepley lives in Dallas, Texas, with her husband Phil and their dog Kati.
# # #