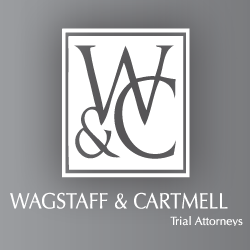 Charleston, West Virginia (PRWEB) September 08, 2014
A federal jury returned a verdict this morning following a two-week, bellwether trial in Charleston, West Virginia, awarding the plaintiffs, Jo Huskey and her husband, Allen, a total of $3.27 million for damages Huskey claimed as a result of a TVT-O pelvic mesh sling device, manufactured by Ethicon, Inc., a subsidiary of Johnson & Johnson.
Jeffrey Kuntz, a partner at Wagstaff & Cartmell in Kansas City, was on the trial team for the plaintiffs, along with Ed Wallace of Wexler Wallace in Chicago, and Fidelma Fitzpatrick of Motely Rice in Providence, Rhode Island.
"I respect the jury for finding that the TVT-O sling is not the gold standard but rather that it was the cause of life-long, irreversible complications from which Ms. Huskey will never recover," Kuntz said. "Although Ms. Huskey will never be the same, I am glad she received some small amount of justice with this verdict."
According to court documents, the TVT-O mid-urethral sling device, used to treat urinary incontinence and pelvic organ prolapse, had degraded and eroded Huskey's body, leaving her with pain, scar tissue, and a damaged pelvic floor even after the device was removed. According to court documents, the Huskeys claimed both that the device was defectively designed and that Ethicon had failed to properly warn of the dangers of the device.
The eight-person jury, consisting of six women and two men, found in favor of the Huskeys on both their design defect and failure to warn claims and found Ethicon liable under both strict liability and negligence claims. The $3.27 million verdict included $200,000 awarded to Mr. Huskey for loss of consortium damages.
The case was the first to reach a verdict in the federal multi-district litigation pending before Judge Joseph R. Goodwin in the U.S. District Court for the Southern District of West Virginia. The MDL case is In re Ethicon, Inc., Pelvic Repair Systems Products Liability Litigation, MDL No. 2327.
The jury in West Virginia deliberated for approximately 90 minutes on Thursday before adjourning and resuming deliberations Friday morning, reaching their verdict at approximately 11:30 a.m.
Wagstaff & Cartmell is involved in thousands of cases pending across the United States involving various pelvic mesh devices that are alleged to have design and warning defects and that have caused serious injuries to thousands of women. Tom Cartmell is a co-lead counsel for the Plaintiffs' Steering Committee in the Ethicon MDL.