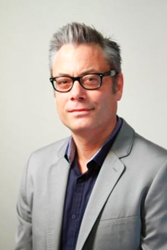 Portland, OR (PRWEB) September 08, 2014
In addition to learning how to start and run a successful legal marijuana business, attendees of the Marijuana Entrepreneur Training Event and Expo on September 30 will have the rare opportunity of asking Andrew DeAngelo questions during the question-and-answer segment of the program as well as network with him and the other speakers at the cocktail party following the event.
While in graduate school in 1991, Andrew DeAngelo helped collect signatures for Proposition P, which legalized medical cannabis in the City of San Francisco, the first such law passed by any jurisdiction in the United States. Building on this momentum, Andrew then helped organize for Proposition 215, which legalized medical cannabis in the State of California in 1996, the first state to do so. Shortly after he graduated, Andrew was diagnosed with glaucoma and moved back to Washington D.C to be closer to his family.
Andrew and his brother Steve continued their pursuit of changing medical cannabis laws by raising funds, collecting signatures, and eventually passing Initiative 59, a medical cannabis legalization law in the City of Washington, D.C., in November 1998. He and his brother also established Ecolution Inc., a hemp clothing company in the 1990s, and helped Ecolution grow to over $1 Million in annual revenue. They sold it when they decided to return to California.
Now he is Vice President of Harborside Health Center in Oakland, California, which was the first medical cannabis dispensary in the world to lab test all their medicine, put their infused products into child-proof packaging, and develop inventory control and security protocols that are the industry standard today. Harborside Health Center has been featured in numerous media outlets including the New York Times, Fortune Magazine, the Washington Post, and the Wall Street Journal.
Things are changing fast in the cannabis industry. Medical Marijuana is now legal in 23 states, and additional states have pending legislation. Cannabis Learning Institute knows this is an outstanding ground-floor opportunity for entrepreneurs. Therefore they have created a series of Marijuana Entrepreneur Training Event and Expos throughout the country which show exactly how to start and run a successful legal marijuana business.
These events teach what's legal and what's not; what the startup business requirements are in each state; and how to safely manage and market the new business.
Go to the Cannabis Learning Institute's website at CannabisLearningInstitute.com to see the fall schedule of locations and dates for the Marijuana Entrepreneur Training Event and Expo, and how to sign up for the Portland event to learn from Andrew DeAngelo and an exciting line-up of speakers.
Those who are interested in additional information about these events can also contact Rocky Narain by e-mail or call him at 954-296-1004.