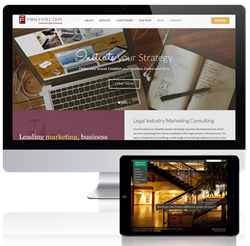 Can efelle creative make your online strategy more efficient and effective? You be the judge!
Seattle, WA (PRWEB) September 08, 2014
Online marketing firm, efelle creative, continues to lead the industry in legal marketing solutions, launching websites for CHLE, Baker Lewis, Stokes Lawrence and Firm Evolution this month. efelle's LawFirmFusion software seamlessly supports ongoing marketing initiatives and facilitates frustration-free content updates and marketing management from any device.
LawFirmFusion is a professional online marketing and website content management system specifically developed to fulfill the unique needs of the legal industry. This fully-integrated platform allows the firm's support staff to intuitively update website content – from service listings to attorney profiles, accompanied by automatically-branded PDF generation, updated in real-time without the need to manage separate MSWord documents and PDFs. Synergistic management of contact requests combined with efelle's eNewsletter functionality makes meaningful client engagement easier than ever.
Can efelle creative make your online marketing strategy more efficient and effective? You be the judge!
About efelle creative
Founded in 2005, Seattle-based efelle creative specializes in custom website design and search engine optimization strategies for professional service firms with a focus on law firms. Over the past 9 years, efelle has grown into a team of 32 in-house graphic design, development and marketing specialists that produce award winning websites supported by robust software solutions.
With more than 500 custom website design and development projects under their belt, efelle work with a variety of business entities in dozens of industries, from start-ups and local small businesses to large national and international corporations. In addition to its law firm website management platform, efelle also offers other custom online marketing solutions for eCommerce businesses, membership organizations, medical and real estate industry professionals, and more.