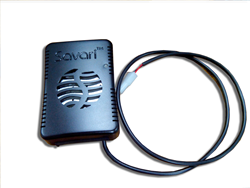 "We have already started shipping thousands of S5x OBEs to our first customer," Paul Sakamoto, VP of Operations, Savari
Santa Clara, CA (PRWEB) September 06, 2014
Savari, a leading provider of next generation V2X solutions for the ITS space announces the availability of its mini DSRC OBU platform. The mini-OBU has a foot print smaller than a standard credit card and supports a wide range of V2V and V2I applications from safety (collision-warning) to commercial tolling/road user charging (RUC). In conjunction with the Savari Road Side Unit, the StreetWAVE™, the S5x can be used for numerous other innovative V2I applications where data upload to a backend server is desired.
"We have already started shipping thousands of S5x OBEs to our first customer ," said Paul Sakamoto, Savari's VP of Operations.
The S5x with its built-in antenna and a standard 12V vehicle power connector, makes installation hassle free. Featuring a high-powered DSRC radio, and an ultra small form factor, the OBU can be located unobtrusively anywhere within the vehicle. The S5x platform supports combinations of WiFi, USB and GPS and can be rapidly configured for mass production.
About Savari
Savari is mobilizing Intelligent Transportation Systems (ITS) with a complete range of cost-effective hardware and software solutions that enable V2X based connectivity. Savari conducts extensive research in the V2X domain and is actively involved in creating various centers of excellence at top University Transportation Centers (UTC) for various applications ranging from safety to mobility. Savari V2I solutions are used in numerous ITS test beds and model deployments and is a preferred vendor for the US DOT. Savari is working closely with automotive OEMs to integrate V2V solutions into their Advanced Driver Assistance Systems (ADAS). They maintain close partnerships with tier-1 suppliers, UTCs, traffic controller companies, system integrators, and semiconductor chipset vendors. For more information, visit http://www.savari.net.