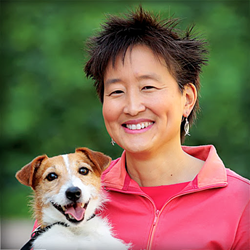 Oakland, Calif. (PRWEB) September 06, 2014
Have you ever been scratched or bitten by a client? Do they run and hide from you? Dr. Sophia Yin can help. The East Bay SPCA is hosting Dr. Yin, an internationally renowned veterinarian and animal behaviorist, for a one-day seminar on Sunday, September 14 at its Oakland location entitled: "Modifying Fear and Aggression in Dogs and Cats."
The interactive seminar is open to the public and suited for a range of animal welfare and medical professionals including: pet owners, veterinarians and veterinary staff, groomers, behaviorists, trainers, pet sitters, dog walkers and animal care workers. The course offers three Continuing Education Credits (CEUs) for trainers, and five for Behavior Consultants. Interested parties can register at http://www.eastbayspca.org/proseminars
"Every interaction we have with an animal influences behavior, and we are all interested in how we can set them and ourselves up for success," says the East Bay SPCA Director of Behavior and Training James Dress. "We are proud to host Dr. Yin and look forward to sharing her knowledge and expertise with our animal care community. As both a veterinarian and animal behaviorist, Dr. Yin can speak directly to the challenges of handling fearful and aggressive animals, and share her tips on early recognition and intervention."
Yin's seminar will be focused into five sections:
1. A Two Step Process for Modifying Behavior in Dogs and Cats
2. Recognizing Fear and Aggression in Dogs and Cats
3. Reversing Fear and Aggression in Dogs and Cats
4. Low Stress Handling and Restraint of Difficult Dogs and Cats
5. Impulse Control: Teaching Dogs to Lear to Earn – a Quick fun and Safe Alternative to the Alpha Role
The East Bay SPCA offers beginner, advanced, and specialty dog training classes to the public at its Oakland and Dublin Education & Training. Classes are affordable, high-quality and use positive reinforcement methods to train puppies and dogs.
-More-
About the East Bay SPCA
The East Bay SPCA is a 501 (c)3 nonprofit committed to the welfare of cats and dogs in Alameda and Contra Costa Counties. We strive to eliminate animal cruelty, neglect and overpopulation by providing programs and education that support people and companion animals. We operate two adoption centers and two spay/neuter centers in Oakland and Dublin. We offer dog training classes and humane education programs at both locations and provide a full-service veterinary clinic at our Oakland location. The East Bay SPCA is one of the nation's oldest humane organizations, in operation since 1874, and receives no funding from national organizations. More information about the East Bay SPCA can be found at http://www.eastbayspca.org or by calling Grace Reddy at 510.746-5111.