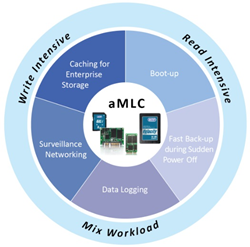 Taipei, Taiwan (PRWEB) September 15, 2014
ATP, the leading manufacturer of flash storage devices and DRAM modules, has introduced a new firmware technology, advancedMLC, also known as "aMLC," to address the rising needs on industrial applications for cost effective and quality NAND Flash products. As many industrial customers have realized that, especially in small densities, MLC NAND Flash products in the market have problems providing satisfied performance, endurance or data retention capability for the heavy industrial applications. To meet these engineering challenges, ATP has provided the new aMLC solution, for a less than SLC cost, in return for a full scale property improvement of advanced Reliability, Density, P/E cycles, Performance with competitive Pricing (RDPPP).
Reliability Is on Top of All
ATP aMLC products set "reliability" on top of all, which is the continuous mission for ATP to upheld highest quality and reliability standards. ATP utilizes the highest grade NAND ICs with supreme quality and thorough 100% production level burn-in test for all aMLC products. ATP aMLC product lines include 2.5" SSDs, SlimSATA and mSATA with flexible densities ranging from 8GB~64GB, as more form factors and densities are to be followed. The flexible densities reflects the best combination of 13x higher endurance than traditional MLC NAND, 3x greater write performance and over 5x data retention improvement with competitive pricing.
The mainstream densities are best suited for the most up-to-date industrial demands on any write intensive or performance driven applications, for instance, boot-up, fast back up during sudden power-off, data logging, surveillance networking or caching for enterprise storage. For further details contact your local ATP representatives, or email info(at)atpinc(dot)com
About ATP
ATP is a leading manufacturer of high performance, high quality and durable NAND flash memory solutions as well as DRAM memory modules. With over twenty years of experience in the design, manufacturing and support of memory products, ATP continues to focus on business critical applications such as industrial automation, telecom, medical and enterprise computing where high levels of technical support, performance consistency and wide operating temperature ranges are required. For more information on ATP aMLC products, please contact us at Info(at)atpinc(dot)com.