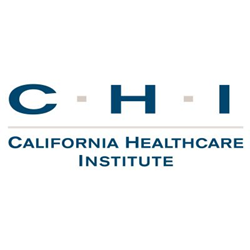 Meghan is an outstanding addition to our D.C. team and will help us advance our biomedical innovation policy agenda in Washington. - Todd Gillenwater, CHI's President and CEO
La Jolla, CA (PRWEB) September 08, 2014
California Healthcare Institute (CHI) announced today the appointment of Meghan Drenan as associate director of federal government relations based in CHI's Washington, D.C. office. CHI is a non-profit public policy research and advocacy organization for California's biomedical R&D industry.
"Meghan is an outstanding addition to our D.C. team and will help us advance our biomedical innovation policy agenda in Washington," said Todd Gillenwater, CHI's president and CEO. "Her experience and strong background in healthcare legislation, policy and law will greatly enhance CHI's efforts to take on the complex issues facing our industry."
As associate director of federal government relations, Drenan assists CHI's Washington, D.C. office in the development and implementation of outreach, education and legislative advocacy programs, as well as building and maintaining alliances with CHI member companies, partner associations and other affiliate organizations. Before CHI, Drenan spent five years in the office of Representative Mike Rogers (R-Mich.), a senior member of the House Committee on Energy & Commerce and current Chairman of the House Permanent Select Committee on Intelligence, serving most recently as his Legislative Counsel. A San Diego native, Drenan holds a law degree from the St. Louis University School of Law and bachelor's degrees in political science and history from Miami University. Click here to view Meghan's full biography.
"I'm thrilled to welcome Meghan to our team," said Jennifer Nieto Carey, director of federal government relations and alliance development, who leads CHI's federal operations in Washington. "Her breadth and depth of experience on issues facing California's biomedical innovators will be a tremendous asset to CHI as we continue our efforts to affect pro-innovation, pro-patient improvements in federal research, regulatory, and coverage and payment policies."
About CHI-California Healthcare Institute
CHI represents more than 275 leading biotechnology, medical device, diagnostics and pharmaceutical companies, and public and private academic biomedical research organizations. CHI's mission is to advance biomedical research, investment and innovation through effective advocacy of policies to improve public health and ensure continued vitality of the life sciences sector. CHI's website is http://www.chi.org. Follow us on Twitter @calhealthcare, Facebook, LinkedIn and YouTube.