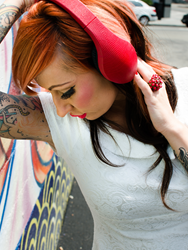 New York, NY (PRWEB) September 09, 2014
Their designs combine organic shapes infused with an edginess inspired by technology and urban living – which is why Project Runway season 12 winner Dominique ("Dom") Streater and Velodyne Acoustics designer and President Marta Hall are the talk of New York Fashion Week in anticipation of tonight's "Elevated," a runway and fashion eventand cocktail reception to unveilStreater's Spring/Summer 2015 fashion and textile collection.
But don't ask for the address, because the show is "sold out."
Instead, here's a taste of what the NYFW crowds will see up-close at tonight's event – and what they'll be talking about tomorrow, according to Laurel Nissen, VP of Marketing and Sales at Velodyne.
"Velodyne has been experimenting with headphones that areminimal in their shape and feature covers that are lightweight butfit snugly enough to enable artists, designers, musicians and painters to customize the overall look," Nissen said. "This innovation has paved the way for collaboration with designers, such as Dom Streater, who have been invited to provide art and textile design for the covers. The result will be on display and available to sample at listening stations during tonight's runway show and reception."
Velodyne's award-winning vFree® on-ear headphones remove the constraints of wired headphones and offer the perfect canvas for Velodyne's 35 artist-designed skin styles, enabling consumers to instantly and easily personalize the look of the headphones to match the mood.vFree headphones produce accurate sound with a 34mm driver, offering Bluetooth connectivity compatible with iPhone®, iPad®, or any other Bluetooth® capable device.
Dominique ("Dom") Streater won season 12 of the Emmy Award-winning television series Project Runway. Her fashion-forward designs made use of bold and daring colors and prints, taking her straight to the top of the competition. Dom's aesthetic is defined and inspired by both the natural and urban worlds around her, combining a symphony of graphic prints and chic silhouettes. Dom was born and raised in Philadelphia, and earned a bachelor's degree in fashion design from Moore College of Art and Design. She currently designs for her self-titled line and freelance clients from her studio in Philly.
Since joining Velodyne Acoustics, Inc. as President in 2011, Marta Thoma Hall has added a creative dimension not typically associated with technology companies. Hall is an award-winning public artist whose multi-story steel and glass sculptures made from recycled materials are displayed in Arizona, California, Florida and Washington, and her solo fine art exhibitions have delighted audiences around the U.S.
At Velodyne, Hall oversees the design and development of new products, including a fast-growing line of sleek, lightweight Velodyne-branded over-ear, on-ear and in-ear headphones and accessories that enable users to customize their headphones with colorful, high-fashion skins designed by Hall and other recognized artists, including Lucas de Alcantara, Francesco Orazzini and Abel Del Rio. At the same time, Hall is transforming the way headphones look and sound with the vPulse, in-ear; vLeve on-ear; vFree on-ear Bluetooth and vBold over-ear Bluetooth; vTrue forged aluminum studio and new vQuiet over-ear noise canceling headphones, which appeal to everyone from casual music lovers to the most discerning audiophiles who recognize Velodyne as a leader in audio subwoofer technology.A native of Lincoln, Neb., Thoma Hall graduated from the University of California, Berkeley, with a bachelor's degree in Fine Arts.
About Velodyne Acoustics
Founded in 1983 and based in California's Silicon Valley, Velodyne Acoustics is a diversified technology company known worldwide for its high-performance audio equipment and real-time LiDAR sensors. The company is widely recognized as the leading manufacturer of high-performance, low-distortion, powered subwoofers and an expanding line of technically innovative in-ear and over-ear audio products, which include interchangeable, custom-designed skins that enable audiophiles to personalize the look of their headphones. Velodyne products are available online at http://www.velodyne.com and from a select group of authorized dealers, custom installers and distributors worldwide. Since 2007, Velodyne's LiDAR division has emerged as a leading developer, manufacturer and supplier of real-time LiDAR sensor technology used in a variety of commercial applications including autonomous vehicles, vehicle safety systems, 3D mobile mapping, 3D aerial mapping and security. For more information, visit http://www.velodynelidar.com. For the latest information on new products and to receive Velodyne's newsletter, register here.