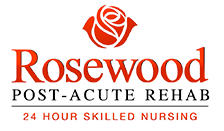 Overall the experience at Rosewood Rehabilitation was wonderful.
Carmichael, California (PRWEB) September 19, 2014
Rosewood Post-Acute Rehabilitation announces a new video showcasing testimonials that speak to the excellent care given within the facility. Those sharing their testimonials include a daughter of a patient, a healthcare professional, a four-year resident, and a private caregiver. As part of the industry both in an out of Rosewood, the subjects in the video speak from experience about five-star quality care they witnessed.
Rosewood Post-Acute Rehabilitation, a skilled nursing facility located in Carmichael, CA, focuses on providing exceptional patient care in a rehabilitative setting. Providing services for both short term and long term patients, Rosewood has a team of experienced professionals to promote recovery from surgery, injury or other serious illnesses.
Residents and family members are highly complimentary. "Our family appreciates the special attention and efforts to take care of him," and "We found during our stay that the staff at your facility was genuinely concerned about their patients and their well-being," are some of the recent testimonials that have been shared.
Echoing the statements made by those featured in the testimonial video are more testimonials and quotes given by residents and relatives to Rosewood staff throughout their years of service to the Carmichael community. "Overall the experience at Rosewood Rehabilitation was wonderful. The nurses have been wonderful. The environment was clean. You couldn't ask for a more attentive staff. The rehabilitation staff is top notch," said one resident after his rehabilitation was complete. "After [being admitted] to Rosewood I was as happy as I was when I toured. The staff was so nice and provided excellent care. The 5-star rating that Medicare gives that building was surely accurate," mentioned another former patient.
The video, filmed on July 25th, shares similar accounts of positive experiences residents and family members have encountered at Rosewood Post-Acute Rehabilitation. Filmmaker Jordan McKittrick enjoyed getting to know the residents during the filming. "There are so many amazing stories to be captured, it is wonderful to be able to sit down and chat with the residents." The video can be viewed on YouTube at https://www.youtube.com/watch?v=-_DNARSda60.