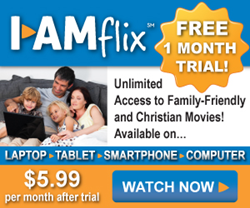 CEO Roan Saunders said, 'We priced our streaming service so everyone who desires to watch Christian movies, children's shows, documentaries, and inspiring films can do so without feeling a budget crunch.'
Frederick, MD (PRWEB) September 05, 2014
There is a new video streaming service available online and it is focusing on people who want a family-friendly experience. IAMflix.com, launched in July, created a new platform for those who love entertaining films but are conscientious about what they watch. Recently, IAMflix enriched their service by offering unlimited video streaming for as low as $5.99 a month while also inviting customers to try it free for a month. CEO Roan Saunders said, "The video streaming business is very competitive and it was important to us to make family-friendly viewing readily accessible to everyone. We priced our streaming service so everyone who desires to watch Christian movies, children's shows, documentaries, and inspiring films can do so without feeling a budget crunch."
For those who are interested in watching Christian movies, IAMflix has the largest online collection of Christian films. Some of the titles include the popular film SlowFade, Paper Dream, The Sword, A Letter to Dad along with a collection of other popular Christian titles. Carrie Cosner, IAMflix COO stated, "We have been adding more and more content every day. We are working diligently to provide as many films as possible in our library and additionally positioning ourselves to be a leader in the industry." Cosner has landed some of the hottest family-friendly films in the market today and continues to build the collection through other distributors, attending film festivals, and working directly with filmmakers.
For those who wish to stream family movies with the free one-month trial, log onto http://www.iamflix.com. Families can enjoy entertaining films together without worrying about the content. Saunders said, "We are excited about growing this niche market worldwide. We are excited about the future and continuing to engage viewers around the globe."
IAMflix: Watch the movies you want, when you want, where you want, and as often as you want! IAMflix is aimed at reaching a worldwide audience that prefers entertainment products with a wholesome themed message from one convenient source. For more information about IAMflix, log on to http://www.IAMflix.com or email info(at)IAMflix(dot)com. If you have produced any films that IAMflix may be interested in streaming please contact CCosner(at)IAMflix(dot)com or call 301.992.4430.