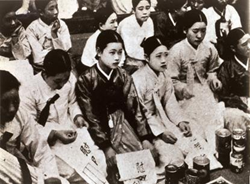 London, United Kingdom (PRWEB) September 12, 2014
According to a new article posted on Geisha Blog on September 5, 2014, young Asian women forced into prostitution during World War II were labeled as "comfort women", a term that is controversial and uncomfortable. Because the issue has only been given more public focus in the last twenty years, questions remain on how just much is known about them. Geisha Blog tackles these questions in the article "Comfort Women: Who and Where are They?"
"Comfort women" provided sexual services for the Japanese Imperial Army, and included women from a countries other than Japan, such as the Philippines, Korea, and Indonesia- many of who have become more vocal in recent years. On Pope Francis' recent visit to South Korea, he met with several Korean comfort women, and wore a butterfly pin, symbolic of the comfort women's plight, throughout the liturgical service on his last day there.
The article on Geisha Blog also reports on surviving comfort women in the Philippines, including "Lola Rosa", the first Filipina comfort woman to share her story with the world. In Indonesia, a support group for the women has been set up on the island of Sulawesi, where the Asian Women's Fund reports there existed 21 of Indonesia's 40 "comfort stations".