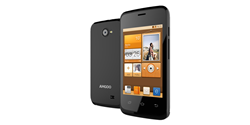 With such a low price point, AMGOO aims to make the incredible benefits that smartphones provide available to everyone
Las Vegas, Nevada (PRWEB) September 07, 2014
AMGOO Telecom, a rapidly growing brand designer and manufacturer of innovative GSM, 3G, and LTE mobile phones for markets around the globe today announced the launch of one of the world's most cost-effective smartphones, the AM506 Spark.
The AMGOO Spark is an entry-level smartphone designed to further spur smartphone adoption in Africa and around the world. With high-end features and a feature phone price point, the Spark is specifically designed to bring the incredible advantages that smartphones provide in the way of fast processing speeds, internet connectivity, and Android apps. Designed to address the needs of end users in the developing world, the Spark uses a cost-effective chipset that aims to lower the price and battery usage, but not the performance of the handset in order to provide the benefits of this fantastic technology to as many people as possible.
The Spark stacks a robust list of features into a sleek housing, behind its 3.5' HVGA display and powered by a 1300mAh battery for an impressive 8 hours of talk time. Running Android 4.2.2, the Spark is able to run apps and games for work and entertainment, as well as supporting Facebook and ebooks. The Spark also supports photographers-in-the-making with both front and rear cameras for pictures of family or selfies with friends along side. With Wi-Fi support, end users are able to download, listen, and play to their hearts' content; and stay connected while out and about on any GSM or WCDMA network.
The Spark will be on show at Super Mobility Week by CTIA September 9, 10 & 11, 2014
Sands Expo and Convention Center / Las Vegas - BOOTH 2069
Key Features
WCDMA 3G Smartphone
3.5" HVGA 320*480
Rear (2.0 MP) and forward-facing (0.3 MP)
Dual-SIM Card Support
E-Books, Facebook, MSN, Games
Extra optional storage up to 32G
USB mass storage and Bluetooth 2.0 supported
Wi-Fi Supported
The AMGOO Spark seeks to address the gap between the accessibility of feature phones for entry-level users, and the life changing benefits that smartphones offer by providing an innovative handset with an impressive set of features ideal for anyone in search of their first smartphone. While smartphone adoption has reached a pivotal critical mass in developed markets, the cost of these devices remains out of reach for most in the developing world.
About AMGOO
AMGOO Telecom designs and manufactures innovative GSM, 3G, LTE, and CDMA mobile phones for markets around the globe. We combine advanced research and development with engineers from around the world with state-of-the-art manufacturing in our own facilities in Shenzhen, China to provide innovative, cost-effective solutions using local intelligence that benefits end-users and the operators and distributors that service them.