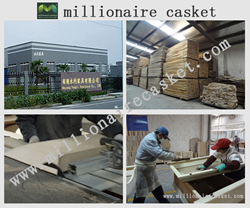 (PRWEB) September 07, 2014
Recently, MillionaireCasket.com, a famous casket designer and manufacturer from China, has announced a maple casket promotion; this promotion is valid until the end of September 2014.
The promotion is to show appreciation to the customers who continuously provide support to Millionaire Casket. MillionaireCasket.com wants to show its appreciation for worldwide clients, especially those from the United States and Canada. This special offer will last until September 30, 2014.
MillionaireCasket.com is well-known for its high quality wood and metal caskets. The company has been manufacturing different types of caskets for many years. They supply high quality products; their caskets all have intricate designs and secure locking systems. As a leading casket manufacturer, MillionaireCasket.com is well known in the industry for providing high-quality caskets, and for this reason, the company has become one of the leading casket suppliers in the market.
The new caskets come in a range of sizes and weight measurements. The interior of these caskets is treated with chemicals to safeguard it from rusting or corroding. The caskets can be ordered in any desired measurement and weight. Along with caskets, it also offers several other products related to funerals. Hence, it is a one stop funeral supplier.
About MillionaireCasket.com
MillionaireCasket.com is a leading casket company that focuses on the business of casket wholesale. This company offers an exquisitely crafted line of all kinds of metal caskets, solid wood caskets, veneer caskets, cremation caskets, rental caskets, orthodox caskets, infant or over-sized caskets and European style coffins. The standard quality control policy is strictly applied here, and a third party quality assurance is also available.
More information can be found at http://www.millionairecasket.com/75-maple-caskets.